#BacktoBasics: Which Cloud is Right for You?
So, you've heard that cloud is the hot new thing in hosting but trying to figure out which one is right for you can seem like Bognor on a grey, cloudy day. The good news is, cloud hosting is actually more like a beautiful sunset; you just need a bit of a helping hand. There's a cloud out there to suit your needs no matter what they are and with our enterprise-level, cutting-edge cloud range, eCloud, you know that you're in safe hands no matter which one you choose.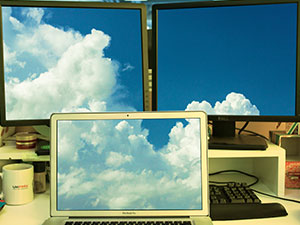 What is eCloud?
In the simplest terms, eCloud is basically our cloud range, but it's pretty kick-ass because it combines cutting-edge tech from the world's leading IT providers with our cloud expertise and support. This beauteous mix of magic means that you get a flexible, scalable and secure cloud solution; then it's just a question of which is right for you.
Your options are eCloud Private, eCloud Hybrid, eCloud Public and eCloud Flex.
eCloud Private
If you want the ultimate in performance for business-critical applications, eCloud Private's your gal.
It basically does what it says on the tin in that it's well, private. It's entirely dedicated to you, built from the ground up on world-class technology and bespoke to your needs. This means that all the firepower is yours alone and you don't have to worry about changes in shared resources having a knock-on effect and potentially slowing your network.
You also get max control with eCloud Private and can configure it through your solution through MyUKFast.
Best for: Large-scale, high-performance solutions requiring continuous uptime, availability and latency; large eCommerce platforms, SaaS platforms and business-critical service delivery.
eCloud Hybrid
In case you couldn't guess by the name eCloud Hybrid is a bit of a 'best of both worlds' situation.
It draws on the shared elements of the public cloud, such as costs savings and flexibility, while also benefitting from the dedicated elements of private cloud, like performance and security.
eCloud hybrid is essentially like having your own dedicated virtual data centre with a dedicated hardware node and the ability to add or remove virtual machines. It's the perfect combination of scalable public cloud and high performance private cloud, which means that you can stay agile while not sacrificing performance.
Best for: High-traffic websites, internal systems, platforms looking for high performance hardware with scalability.
eCloud Public
Sharing is caring with eCloud Public. It gets its name from the face that each element of the hardware is shared with other users, which – here's the good bit – also shares the cost.
The beauty of the public cloud is its dynamic infrastructure, which allows you to scale your solution up or down as and when you like. So, if you experience a peak in traffic to your website, you can add resources, including RAM, often within seconds.
It's flippin' great for a growing business, as it's scalable and affordable and creates a virtual environment that's easy to manage.
Best for: Small businesses that want the flexibility and simplicity of the public cloud.
eCloud Flex 
The newest addition to the family, eCloud Flex is great for developing, innovating and teaching, combining the power of eCloud with the flexibility of OpenStack.
You can spin up your first virtual machine in under a minute and after that it's super easy to dynamically or programmatically deploy, develop and deliver. And, as your requirements change, eCloud Flex provides the freedom to scale your cloud at the click of a button, as you have granular control over every aspect of your solution.
It's also free from vendor lock-ins, which means you can chop, change or remove applications as you wish without being committed to any fixed-term contracts. Plus, you benefit from increased cost-efficiencies by only paying for the resources that you use.
Best for: Developers and teachers that want to spin up solutions quickly for testing.
What next?
Maybe this has completely cleared up any questions you have – in which case, happy days. If not, then hopefully it's given you a taste of what's out there! Now, when you're ready, get on the blower and have a chat with one of our expert team who will be happy to help you decide which is the right cloud for you.
Take a look at our website for more information on which cloud is right for you.