Preparing for your Peak Period
Whether you've got a new ad on TV, an exciting product launch or are just starting to get that festive feeling every eCommerce retailer knows just how exciting, and how stressful, peak periods can be. The question is how do you maintain a high level of service and meet customer expectations so that you can make the most of your busiest time? Our new whitepaper shares expert insight on how to ensure you're able to step up to the challenge.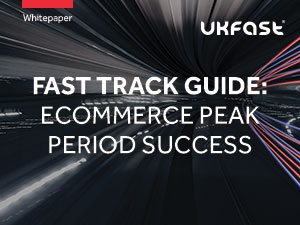 Having extra traffic to your site can be exhilarating, but you want it to be an adrenaline rush for the right reasons. An eCommerce strategy and infrastructure are created specifically to cope with peak periods is vital to achieving this.
To make a success of a peak period, you need to make sure that you've considered every angle and have a robust plan in place in order to stay on top of your game; from having a supporting marketing strategy and sufficient stock, to ensuring your site's technologies and infrastructure can cope with the surge in traffic.
We recently spoke to five eCommerce experts including David Pert, eCommerce Director at Simon Jersey; Lauren Percival, eCommerce Manager at Forever Unique; Phil Turner, eCommerce Manager at Silentnight; Sam Rutley, Digital Director at PushON and UKFast's own eCommerce Team for their insights and tips.
First we asked them about their key concerns in the lead up to peak periods.
For Forever Unique's Lauren, as with many companies, mobile is now the team's biggest concern as potential clients are increasingly on the go. She said: "60% of our traffic is via mobile devices and, like most retailers, it's our lowest converting device. We're shifting our focus away from a desktop-first approach and ensuring that our content is optimised for mobile before realigning designs to suit desktop."
David at Simon Jersey reckons a balance is key. He said: "Adopting new technologies and taking an entrepreneurial approach to marketing technology gives us the edge on the competition; on the other hand, making the wrong decision can lead to overlaps or gaps in capability, or simply a lack of integration and data sharing between marketing technologies."
And here at UKFast our eCommerce team knows that preparation is key, saying: "The peak period is the test for the predictions and changes made throughout the year. From making sure the checkout process has been streamlined and stripping back forms, to improving the mobile experience – all of that is preparation for when the site gets a hammering."
So, how can retailers prepare for that period to ensure they can flourish during the festive period?
David reiterates the part that Black Friday and Cyber Monday now play for online retailers, and the importance of getting it right. He said: "This year we will focus on determining which products should take centre stage (and the subsequent stock and infrastructure requirements), which promotions we'll circulate, and how that will change depending on different competitor responses."
He, like Lauren, also sees the value in taking a broader view on how customers are accessing your offering – desktop is, if not over, then definitely not top dog anymore.
So, he reckons: "Perhaps most importantly we'll also be looking at how the event can take more of a multi-channel approach, with a specific focus on using social media to engage more directly with customers across the week."
And finally Sam reinforces the idea of being prepared; otherwise Black Friday – and any other day – could be a very dark one indeed. He says: "Planning is key. Without planning, retailers will either miss their opportunity or fail to deliver to their potential. We're working closely with our clients and partners to ensure that they have a well thought-through strategy for the festive season, with planned marketing campaigns, promotions and of course the infrastructure to support it."
Hear more about preparing for the peak periods, including making sure you have the infrastructure to support your needs, in our whitepaper the Fast Track Guide to eCommerce Peak Period Success.