A Done Deal for the UKFast Sales Team
One of the things that constantly comes up at UKFast is how great it is to join as a new starter and how welcome everyone feels. Today Jack, one of our new sales team, shares his experience from his first few months at UKFast!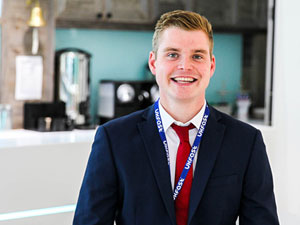 Coming into my fifth month at UKFast it feels like I have been working here for a much longer duration. The ethos of the business really shines through each member of staff, warm welcoming, outgoing and very hard working. From the first day you arrive it feels like you are one of the UKFast team.
Having grown up in Manchester, attending University in Sheffield, a stint in London and working in the French Alps I knew I would look to settle down in this City. UKFast have always been on my radar due its presence on social media and the whispers of how great a company it is to work for. Upon landing back in England I applied within a couple of weeks for the role and by the end of May I had started my next adventure.
This entire industry was new to me – of course I use computers/apps daily and am very handy regarding Fifa on the Xbox but anything more technical is way over my head. From day one you are taken under the wings of Aaron and Arlene in the UKFast University. This crash course in servers, tech, UKFast and Aaron is a real eye opener and highly educational. Visiting the data centre was really the turning point for me, being able to see clients' businesses and livelihoods and become aware of this physical side of the internet which seems to be invisible to most.
At UKFast the sense of "work hard play hard" could not be more present. You have access to table tennis, the onsite gym and of course the loaded bar for Beer Fridays. However none of this comes without the hard work expected of us from our manager and Lawrence our CEO. By 9am every day the whole team is at their desk ready and raring to tackle the day ahead. Each member of the team is very competitive and determined to be at the top of the leader board. The competition is fierce and constant within the team, just wait until we play table tennis!
One major area of UKFast that I have gotten involved in has been the fitness aspect of the company. Upon arrival you notice how healthy and active the staff are. Kettlebell classes, daily running clubs and trips to boot camp are weekly occurrences and encouraged by all. By the end of my first six weeks I had completed my first ever 10 km race at the We Love Manchester Race. Two months later I had considerably beaten my previous time. Being able to train at lunch time is a massive factor for a number of UKFast staff and is a great feeling to be a part of.
Overall my first 5 months at UKFast have been highly enjoyable and very productive, both in the office and outside. I have to make a big shout out to Lawrence for putting on what felt like one of the greatest work parties to ever happen in this country and maybe further afield….UKFest. How many CEOs take over a number of fields for three days and provide fair ground rides, live music, paintballing, food and of course alcohol…for all the staff and their families?
If you fancy being the next UKFast superstar we've got a range of vacancies on our website!