Become a Linux Legend
If you enjoy both a good workshop and the hit operating system Linux – and let's face it, who doesn't? – then we've got a special treat in store for you! As we continue our crusade to bridge the digital skills gap in the region we've worked with The Dean Trust to design a five-day Linux course to inspire teachers and encourage schools to make the operating system a core part of their ICT curriculum. Tech is the future and, if you're a teacher, it's something that you and your Padawans need to get skilled in.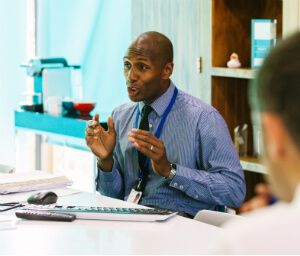 Across November and December we'll be offering teachers the chance to acquire some serious skillz as part of the Creative Solutions for Computer Science Teaching Programme ((CS)2TP) in association with our good pals The Dean Trust.
The (CS)2TP course will develop and enrich your existing computer science knowledge whilst introducing new innovative ways of delivering a computer science curriculum, bursting full of ways to engage and motivate pupils of all abilities.
During the course you'll be working alongside us, and have the opportunity to use our industrial expertise to develop top-notch computer science knowledge. The Dean Trust will then bring you outstanding classroom practice to help you develop your teaching and learning.
The course has been approved by the Linux Professional Institute (LPI) and consists of two days of classroom and practical lab activities, touching on a range of topics from software licensing to create scripts to managing hardware. At the end of the course, exams for the LPI Linux Essentials Certificate take place in our purpose-built, in-house PearsonVUE testing centre.
Our Director of Training and Education Aaron said: "Providing teachers with industry recognised digital skills, such as Linux, means they can pass these skills on to their pupils. It enables them to deliver innovative curriculum projects focused around the computer science agenda and the modern digital business. The benefit to young people is that they gain invaluable industry skills that businesses like UKFast look for."
Our CEO Lawrence said: "These courses are amazing for teachers and we've received great feedback so far. This type of training will only help to improve the outlook for the region's digital industry. In addition, the workshops allow our partners to gain a better understanding of the platforms and services we deliver to them, which is beneficial both ways."
So, what do you get?
Linux Essentials certifications
A free computing scheme of work
Opportunities to network, innovate and develop outstanding schemes of works with industry leaders.
Course Structure:
The course will give you a solid grounding in all things Linux, from a wide array of Linux commands to physical computing methods including Code Bugs, micro:bit, Lego and Raspberry Pis, to a hack morning where you will take what you've learned and have the chance to create virtually anything you want. You also have the option of doing an exam at the end and getting an intimidatingly cool certificate, and attending an awards ceremony to celebrate your hard work!
Pre-course requirements
This course is aimed at KS2, KS3 and KS4 teachers
Basic knowledge of visual programming
Basic knowledge of operating systems
Basic knowledge of Python
Passion for learning
Cost
The course is £499 with the Linux exam and £449 without Linux exam, and includes light refreshments and lunch.
A bit about us
We're proud to say we are the only LPI Approved Training Provider (ATP) in the North of England and have developed a partnership with the world's leading providers of Linux exams and training, which supports us in our mission to upskill the educational and local community.
We're no strangers to education either, with our training and education team consisting of former teachers who have enough energy to power our servers by themselves! We've been proud to work with 45 schools in Greater Manchester, delivering masterclasses and teacher development, code clubs and immersion days reaching over 57,000 young people, so you know that you know you're in good hands.
To find out more take a look at the website and become a Linux legend today!