A Smart Move for UKFast
Last Friday the UKFast team was called into our CEO's office for an exciting announcement – that we are doubling the size of our HQ in a landmark property deal. That's right, UKFast is expanding and it means big things for the future of the company and for our customers!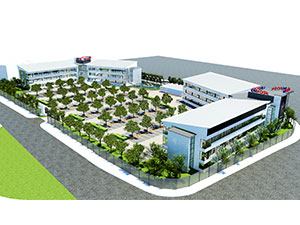 While most of us were blitzing our end-of-the-week jobs and turning our beady eyes to Beer Friday, our CEO Lawrence was about to drop some incredible news that would set us on a high for the weekend: he'd bought the building next door to us!  Our new acquisition gives the team an extra 40,000 square feet next to our current campus in Manchester Science Park and is the next piece of the puzzle for Lawrence's plans for the company.
We love our Campus here in South Manchester and – having moved from City Tower three years ago – have made this our home, and an integral piece of our company culture. But the UKFast family – once consisting of two people and an ungodly amount of Shredded Wheat! – has grown to over 300 in that time, including the acquisition and expansion of other, specialist businesses within the company like Secarma and Pentest.
So, holding fast here and just spreading out a bit seemed like a pretty logical step and will give us the room to grow the team to a whopping 800! As part of this, Lawrence is dead set on making sure that at least a third of our Campus is dedicated to the team, our clients and events that help the tech community, which we can do so much more of with the extra space!
He says: "Moving to our current location was a game-changer for us. It was a bold move but the team here have never been happier, so it has worked out brilliantly. We're right on the edge of the city and it gives us the added benefit of car parking and room to not only grow but to create an events area that is now proving an enormous benefit to our clients.
"We have outgrown it sooner than we'd planned. Our strategy to dedicate 30% of our space to relaxation and recreation has been incredibly important to the environment we've created at UKFast and I plan to continue that when we expand next door.  This deal gives us the opportunity to complete the next stage of our growth. The cost and disruption of relocation would have caused a lot of pain."
This is key – the alternative to the deal would be to move, or something even more drastic, which would have caused disruption to the team. This way we can continue to expand and develop without any messing about, which means that we can keep focussed on the thing that matters most; helping our clients. More space means happy team members, more growth and better things for our customers.
We've got a year to get everything sorted and it's more than likely that Lawrence's plans will become even more ambitious in that time, so watch this space!
If you can see yourself in our amazing expanded Campus then take a look at our website and you could be the next UKFast superstar!