Standing Shoulder to Shoulder with Manchester's Businesses
Yesterday we were celebrating women in sport, and today we're thrilled to find out that we've been shortlisted for the M.E.N's Business of the Year awards! We're big fans of promoting business in Manchester and, win or lose, here's why this is an award so close to our hearts.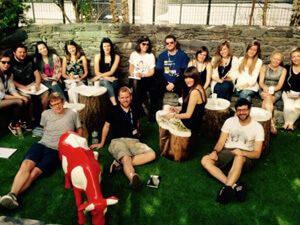 October's off to a blinding start with Women in Sport Week, Cyber Security Month and then last night the Manchester Evening News (M.E.N) announced that UKFast is shortlisted for Business of the Year in the £25m-50m category; not a bad thing to wake up to!
We're up against some incredible firms in our category, and the standard of nominees is extremely high, so it's a great honour to be standing shoulder to shoulder with businesses that show just how great our city is.
We've previously taken home the trophy in the £10m-25m category so it's also a great testament to how we've grown, and looking at all the things that have changed since then is pretty exciting because we've never done it for the recognition; it's all about the customer.
The business was started by our CEO Lawrence and his wife Gail seventeen years ago because they couldn't find a hosting provider that provided good quality service. Working from their back bedroom and living off baked beans – something which many of our fellow nominees will be familiar with! – they wanted to ensure that they were putting the heart into hosting; something which is part of our literature even now. Seventeen years later our NPS (customer satisfaction score) proves where our loyalties lie, and is consistently ten times the national average.
Being nominated for an award like this is still a great boost for the entire team, which has gone from two to over three hundred, and Lawrence and Gail are always quick to put the success of the company down to the team whenever they are nominated. It's this kind of appreciation – from the top-level team at UKFast, from our customers and from awards like this – that make the team feel valued and motivated.
Employee engagement is a hot topic at the moment as it's proven that workers consistently perform better when they feel valued. We're extremely fortunate at UKFast that Lawrence is in a position to take us on trips, give us a beer on Fridays at our in-house bar and even put on a festival for us and our friends and family, but even when we were much smaller he'd give the team fish and chips on a Friday to let employees know that they're valued. No matter what size the company is there are ways of letting team members know that they're appreciated.
The ceremony goes down on November 10 at Manchester's Midland Hotel and whether we win or not we're pretty excited and proud. Tickets are on sale now, I do believe, so if you want to come and watch the action unfold, and celebrate some of the best Manchester has to offer, then we'll see you there!
If you want to come and join the team take a look at our website – we're hiring the next generation of UKFast superstars!