Joining the UKFast Tech Team
This morning one of our cracking new tech guys Harry talks about why different is a good thing at UKFast.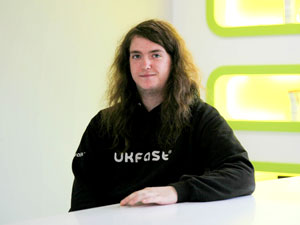 I've been at UKFast for around three months now and I can say that UKFast and the people that work here pride themselves on their differences.
This was made very apparent during the first week, where we met the enthusiastic Arlene and the even more enthusiastic Sax. Bonkers doesn't begin to describe that guy.
For that first week it was the usual corporate induction with a UKFast twist, where we were all welcomed with open arms to the company. After a tour of the building and the data centres, and an introduction to how things worked around the place, I was let loose upstairs to begin my new career.
As a techie, my first few weeks after the induction were spent shadowing. As much it might sound like staring at somebody's screen while they work would be monotonous, it's a calculated ploy by the powers above to begin integrating you into the family. It was actively encouraged for you to move around the office, speak to as many people as possible and begin getting to know your colleagues, not to mention shooting people with the abundance of Nerf rounds and check out the wacky trinkets people clutter their desks with.
After I had been here for just over a month, I had already been put through my first Linux exam and was given my very own desk to begin filling. This was when the management structure became clear. There really isn't one.
As I am sure you are aware, starting a new job is nerve racking and it can take a while to settle in. After having my desk for around a week was when I began to feel comfortable to join in on the laughs, and this started with my offers of hot drinks to the guy sat opposite me, being coupled with friendly gibes that were all taken in the light that they were meant. It was not long after this began that I found out that this 'guy' was actually a manager of one of the technical teams. That hasn't stopped me (although I'm sure he hoped it would).
There's more great stuff to go on about, from the bar, to bring your dog to work day, to free pizza. But these are all things that will probably become a normality during my, hopefully, long career here. What really makes this place stand apart from anywhere else is the people, the sense of community and the constant thirst to be the best at what they do, and so far, I'd say they're doing a darn good job at it!
If you want to join Harry and become the next UKFast superstar (complete with bar, pizza and wacky trinkets), take a look at our website.