Don't Miss Out On eCommerce Expo 2016
This week eCommerce Expo 2016 – which bills itself as 'the only event dedicated to the entire breadth of eCommerce' – hits London; and with the holidays a-comin' now is the perfect time to get a-breadth of eCommerce (see what I did there?) and become an eCommerce guru. If you want to lay some groundwork so you have some fabulous talking points at the event, we're sharing two ways to get that all-important speed up in our Hosting Guide to eCommerce whitepaper.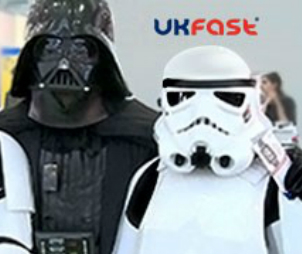 From books to bananas to 1,500 live ladybirds, nowadays you can get pretty much anything online (maybe don't ask how I know about that last one) and, as our shopping habits move from pounding the pavement to pounding our keyboards those in the business of selling online want that to be in excitement, not frustration.
The internet now contributes $2.2 trillion in annual retail sales so it might sound like everyone's already nailing it, but in reality it takes work to become the next ASOS or Amazon.
One great way to set yourself on a path to excelling at eCommerce is to attend events. Seems a bit counterintuitive, seeing as your business is based online, but any serious e-tailer should be looking to the wider community to innovate and up their game in the run up to this year's festive season.
Events like eCommerce Expo bring together the latest tips, tales and innovations from expert speakers and 100s of eCommerce providers and suppliers, all for free. Yes, free. That's a lot of knowledge for the taking. It's going down this Wednesday and Thursday in Olympia London and as UKFast is the main sponsor – come and say hi!
If you want to get your head in the game and impress new contacts with your intimidating-yet-helpful eCommerce knowledge, feast your peepers on our Hosting Guide to eCommerce whitepaper, which gathers expert knowledge on why your web host makes a huge difference to your eCommerce platform.
One crucial part of this is site speed; any eCommercer worth their stock will know how important speed is to keeping customers, but most don't realise how much of a role their web host plays in this.
There are two key things that our whitepaper outlines for site speed success. The first is checking that your software and content management system (CMS) is right for eCommerce, and optimised to help you get the most out of your site, as not all are optimised for eComm.
The second thing is to choose a reliable, flexible and supportive site host. eCommerce sites have vast databases that must be crawled and filtered within milliseconds while coping with insane amounts of traffic and multimedia files. To make this process a smooth one and ensure your site doesn't come to a grinding halt while visitors are browsing your site or worse, halfway through making a purchase, your host provider must be able to offer:
Guaranteed 100% uptime
A versatile server solution that can be updated as your business grows
High performing servers
Expertise in eCommerce hosting
Around the clock support
When choosing a hosting partner, make sure you're asking the right questions and that they're providing great solutions.
Read our whitepaper so that you know you've got the best hosting support behind your site.