The Return of UKFest!
Get out Glastonbury and watch out Woodstock – UKFest has arrived! That's right – it's too early for April Fools' and too late in the day for my caffeine-addled brain to be messing with you; UKFast did, in fact, host its own music festival last weekend! If this just sounds like an excuse for the three hundred team members plus a few hundred extras to get covered in glitter and dance their way to cheap therapy in a field, there's more to it than mud, music and general mayhem (though there was plenty of those things); here's why it's good for our customers too.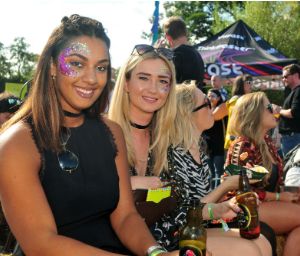 When it was announced that UKFest was confirmed for this summer in a weekly Monday Morning Meeting earlier this year we were all pretty excited – but most of us were imagining sitting on a bale of hay, drinking a can of Fosters as John Cusack serenaded us with a boom box over his head (or maybe that was just wishful thinking on my part). What we got was so much more.
On Friday night the entire UKFast crew plus friends, family and local residents of what some (me) are calling Cheshire's Glastonbury were greeted by tipis, a Prosecco lawn, a full stage which welcomed chart-topper Example on Saturday night, and loads more. It was three days of family, friends, sunshine and fun and everyone came away with massive smiles on their faces (and a few sore heads).
From Beer Fridays to team-building trips in Snowdon and Switzerland, the UKFast founders are known for going above and beyond for their employees, but this was on another level. It might seem baffling to lots of companies, but they know the value of employee engagement and showing your team how much you appreciate them.
It's not just the people that work at UKFast that are benefitting though; the age-old adage 'happy employees, happy customer' is also true. There was an incredible buzz around the office in the week leading up to the festival and it's continued well into this week (despite a pretty full-on weekend), which is pretty impressive considering it's already pretty normal to see people running around the office, firing nerf guns at each other and generally excited to be here.
Employee engagement sounds like a buzzword but businesses are increasingly realising that if you invest in your employees they're going to go above and beyond for you too.
A music festival may not be possible for everyone but listening to employees, investing in their future (our training and education team make sure we're all working toward accreditations too – as my upcoming media law exam shows, it's not all days out and festivals!), and finding fun ways to say thank you will help create a festive spirit in any company – maybe just minus the mud, hay and John Cusack.
If you want to be part of the next UKFest then UKFast could be the place for you – take a look at our website to find out if you could be our next superstar!