eCommerce Live 2016: Digital Disruption from James Bilefield
Hester reports on last week's UKFast-hosted eCommerce Live UK and keynote James Bilefield's enlightening look at digital disruption.
Well, what a blast that was! This year's eCommerce Live was without a doubt the greatest one to date. The UKFast Campus auditorium was filled to the rafters with eCommerce professionals from across the country, and our speakers and panel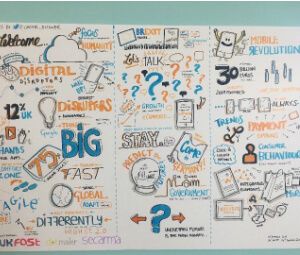 members imparted some serious wisdom to the room.
Those of you who couldn't make the event might have seen our live blog feed, where we kept you updated with all the best bits from the event, right as they happened.
Digital disruptors
We were delighted to welcome James Bilefield as the keynote for the day. James is a digital entrepreneur who led the multimedia transformation of iconic brands such as Vogue, GQ, Wired and Vanity Fair across 27 markets outside the USA.
He kicked the event off by guiding the audience through the ever-changing landscape of digital. According to James, we're addicted to our devices: we no longer 'go' online, but instead exist on the internet. We are always online, whether socialising, working, shopping, learning or relaxing. The internet used to be an activity in itself, but now it is a constant presence that enables us to access activities.
James took us through some of the amazing new developments in tech – including the Amazon Echo, a wireless speaker that can pick up sound as well as emit it, allowing it to respond to voice prompts to order products from sites – and reflected on what spells success in the tech world.
It's all about being dynamic and adaptable; the buzzword 'agile retail' was banded around more than once. Moving outside of your comfort zone is how innovation happens; iterating more quickly means making sure your business is at the forefront of the industry. 
James urged the audience to "Think different", approaching every single aspect of their business in a new, more advanced way than the last. To survive, tech businesses must adapt. His three top tips for survival were:
Taking your core business and making it better
Using data to inform and make better decisions
Utilising the benefits of automation and recognising when not to automate
James also pointed out that innovation doesn't have to be a solo endeavour; the best businesses are those that ask for help from people with experience, who know more than they do.
James left the crowd with two words: "focus" and "humanity". His advice was firstly to do one or two things and do them well, and secondly never to forget that it comes back to the customer. All the great internet companies started out doing just one thing really well, adapting and reworking to their target audience as time and tech ticked on. Quality and connection is key; without these, you will never succeed in digital.
For more insight from eCommerce live, the live blog is an amazing resource and has comprehensive breakdown of everything that happened during the afternoon.