Castell in the Clouds
What does 'team-building' mean to you? A pint down the pub on Friday? Cliché business jargon? Your own personal nightmare? If you work at UKFast it means getting your rain mac on and your head firmly in the clouds – and for once we're not talking about our eCloud tech (sorry, bad hosting joke!). All UKFasters visit our team-building retreat out in Snowdon, so today we're dipping into the vault and taking you up the mountain with us in our Flashback Friday video!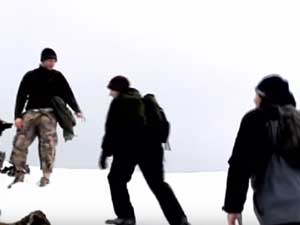 Before I started at UKFast walking up a long flight of stairs was intimidating for me, and if you'd told me I'd soon be climbing a mountain I would have probably have fallen down said stairs from laughing so hard.
'Climb every mountain' is taken at its most literal at UKFast, with all new recruits heading up Snowdon as part of their induction. I genuinely can't tell you how livid I was at finding this out when I started working here and I won't lie to you, I tried pretty much every excuse in the book to get out of it.
Luckily I did go and from climbing Snowdon, to building rafts on the lake and the 'cat and mouse' chase through the hills, it's actually one of the best things I've ever done. No one was more surprised than me.
In today's video from 2008, we see some very baby-faced versions of our top team members heading up the mountain to give you a bird's-eye view of the breathtaking Welsh countryside. Being a Welshman, it's a place that's very close to our CEO Lawrence's heart, and it's become a firm favourite of many of the team too; over the years many UKFasters have been taken back out for meetings, or just to have a bit of a breather when it's needed most.
Lawrence has always believed that physical health is a big part of having a healthy business, which is why his teambuilding retreat has a very active angle. It's also a great chance to get to know people in the team that you might not otherwise meet; my induction group was me and ten of the tech lads, which means I now have people I can pester about technical blog questions, as well as a new set of mates to share a beer with on a Friday night.
Welcome to Castell Cidwm.
Whether this is already your thing or – like me – you're keen to get out of your comfort zone (read: had no choice), UKFast could be the place for you.
We're currently hiring – take a look at our careers page; and don't forget to sign up to our YouTube channel to make sure you're getting all the fun stuff and insights from our film team.