Still Happy in Manchester
Although summer seems to have come and gone in the blink of an eye, there are still plenty of reasons to be happy. I mean sure, Manchester's the wettest city in the country, we live under the strapline 'It's grim up north' (complete with a Halloween film festival of the same name), and I can't understand half of what Mancunians say, but actually people up here are a pretty happy bunch. Don't believe me? Here's the evidence to prove it in our Flashback Friday video!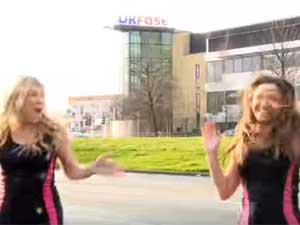 Nearly three years ago I packed a bag, watched a week's worth of Corrie and left London for the soggy climes of Manchester.  Just after I joined UKFast my manager Alice informed me that we were making a video of Manchester's finest – from digital agencies to law firms to celebrities – dancing around to Pharrell's hit song 'Happy'. I nodded and smiled, because clearly they were all insane and I thought it best to keep them as calm as possible.
Several years later, I own shoes that don't leak and a decent umbrella, have made countless new friends who STILL think it's hilarious to call me Danny Dyer because of my accent, and Manchester is as happy as ever!
In an age where things can seem pretty bleak at times, it's important to remind yourself that us humans can be alright, actually. Here's 'Happy' from our video vault to brighten your day.
Sign up to our YouTube channel so that you can stay happy with us!