Software as a Service – Top Tips
Software as a service is rapidly gaining popularity, with global SaaS revenues expected to grow 21 per cent reaching $106bn by next year, but there are still a lot of questions surrounding the 'as a service' model. Our panel of experts at our recent UKFast round table gathered to discuss the opportunities SaaS provides and the future of the service. Lowri has the lowdown.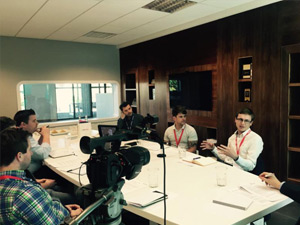 Roy Hibbert, specialist at Citrix, believes Software as a Service is widely used, without people even realising it.
He said: "If you look at both what we do and how we interact in our private lives now, you realise how much we rely on the dependence and availability of applications in the cloud, as well as the convenience, ease of access and ease of use. And what we're trying to do in the business world now is to follow that trend; we're trying to make what we do as accessible as possible for people wherever they are, whatever they do.
"For me, with nearly 30 years' experience in IT services, Software as a Service is the one defining moment; it's a pivot point in IT services. It's developing and will continue to develop. We have no choice in the matter."
The two main key words that cropped up in the discussion were convenience and accessibility, and Simon Calderbank, founder of Big Knows, agrees software as a service is increasingly being driven in our personal lives.
"People are so fixated on how to utilise time; time is now currency. People want to know and work with anything that enables them to use their time more efficiently. It's not about a work/life balance now, it's more about a work/life blend and how you marry the two. Many people get accused of using the phone constantly. We are driven by the accessibility, the ease of use and the convenience.
Mark Horwood, director of Cisco, believes Software as a Service is largely driven by consumers.
He said: "Historically from a hardware/vendor perspective you come up with the tech and find a market for it. Things have changed, but in IT what we see more of now is customers IT departments need choice; of either being hardware CPE or a hybrid model of being able to dive into their own cloud, a private cloud or picking and choosing the right SaaS for them. It's driven by the need to release time in order to focus on the companies' core drivers. It's finding the easier way of companies delivering their services to their customers."
Jonathan Downes, senior web developer at Frank Design, agrees.
He said: "A lot of businesses find that when they have in-house IT departments a lot of projects become IT-led, whereas they really need to be business-led projects to get the objectives you want to get to.
"A business knows that everyone now wants the latest thing as quick as possible – when you know someone is making software available for you for the next 10 years and all you need to do is upgrade; I think it's a really good character for businesses to take on."
Watch the experts explain in their top tips video!
You can find out more about debating the hot topics of the day at a UKFast round table on our website, and sign up to the UKFast YouTube channel to stay in the loop!