Getting Excited about eCommerce
With eCommerce Live UK fast approaching you're probably getting pretty excited – I'm sensing sleepless nights, untouched food and a meticulously planned route to UKFast Campus saved to your sat nav. While I don't want to send you into unmanageable, Rolling-Stones-levels of excitement, prepare for those anticipation levels to skyrocket when you discover the names of the incredible experts that'll be dropping their knowledge all over the shop on Wednesday September 14th; and spoiler alert, they may or may not include some familiar ones too…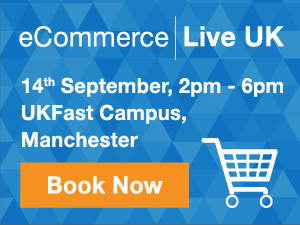 eCommerce Live – which has been called the Olympics of online (by me), the Ritz of retail (also by me) and the éclair of eCommerce (that one's just because it's nearly time for tea) – is a mere two weeks away.
The day brings together some of the most forward-thinking minds in retail and digital technology, as they share unmissable advice on UX, the mobile revolution, the Brexit effect and more. We're not going to lie, you'll leave inspired to take your digital strategy to the next level with new technologies to give you the competitive edge.
Our amazing expert speakers will be sharing their many years of insights, wisdom and top tips from the heart of the eCommerce world, helping you to hone your offering in time for the festive fiesta. The incredible team that you'll be hearing from have been hand-picked to give you insights from a range of angles; here are the industry titans that will be sharing their insights on the day:
James Bilefield – Digital Entrepreneur & ex-Skype and Yahoo boss
Lawrence Jones MBE – Digital and Hosting expert
Dr Dave Chaffey – CEO of Smart Insights & Digital Marketing Author
Matt Hunt – CEO, Apadmi Enterprise
Skip Fedura – Client Services Director, dotmailer
Plus, you'll hear from trail-blazing eCommerce businesses in our live panel debate. Discover how Space48, PushOn and Forever Unique are embracing the digital transformation.
Other important details:
Date: Wednesday 14th September 2016
Time: 2-6pm
Venue: UKFast Campus, Manchester, M15 5QJ
eCommerce Live UK is FREE – don't miss out on the advice and expert insights!
If you want to get involved in the lead-up to the event, find us on Twitter at #eCommerceLive16!