GCS-SEE Results With An Apprenticeship
Many of us will remember the pain of GCSEs (O-levels back in the day) – or will have children who are actively, and vocally, reminding them of it now. Many 16-year-olds getting their GCSE results today will feel like college or sixth form is their only option but – as you'll see in today's video – it's never too early to pick a career, earn while you learn and make an active and worthwhile contribution to a business.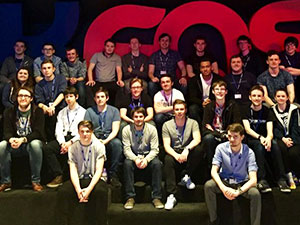 If my PE GCSE is anything to go by, doing academia for the sake of it isn't always a good idea. As today rolls to a close, teenagers around the country will be staring at a piece of paper and deciding the next step on their career paths. What many might not realise is that apprenticeships are a great option too.
Apprenticeships are just as much about developing soft and transferable skills, which is great for any GCSE-ers who aren't ready to go straight into employment but also know A-levels aren't for them. The important thing is to strike a balance for teenagers who still want to learn and progress, but want to mix that in with developing in other ways too.
At UKFast we have an award-winning Apprenticeship Scheme and our director of training and education Aaron nailed it when he said: "We have a great, progressive model here. It allows young people to slowly build and develop and grow into teams by having classroom sessions with teachers and trainers in an environment that helps them develop not just academically but from a personal perspective too. Our apprenticeship programmes are very bespoke and everyone develops at a different rate."
The question is, does it work in practice? We spoke to two of our apprentices, Dylan and Josh, who joined us after finishing their GCSEs, to ask them about their time here.
Dylan is joining our Solutions Architects team, and said: "I wanted to be learning while doing – coming into a business and doing something for them rather than just sitting and learning in college. The best thing about the apprenticeship has been getting into a team and being able to give something back – we get given all the opportunities in the world and being able to give back to the business is great. Every day I come in and find I've got something interesting to do."
So, would he recommend it to anyone out there thinking that maybe they want to set a different course for themselves? In a word: yes.
He said: "Apprenticeships are the way forward, I believe, in learning. I love coming to work in the morning."
Josh, who is currently in the process of moving into our Windows team and shadowing the guys there, also loves the fact that you get more out of your learning from doing an apprenticeship.
"You get commercial experience that you wouldn't get in college, and to talk to people that are already in the industry who can provide you with invaluable knowledge that you wouldn't learn anywhere else. You learn more than you would out of textbook because a textbook doesn't update every 10 minutes!
"I'm currently learning about what I'm going to be taking part in and the problems I will come across to provide solutions to clients. The best bit is you learn while you work and everyone here is really nice."
Josh knows that an apprenticeship opens doorways and provides the opportunity to go far.
"I want to become a senior Windows engineer, dealing with more in-depth tech and solutions."
Take a look at these lovely lads in action in our video!
https://youtu.be/PtzxQ_AU8ts
Apprenticeships are crucial for the wider skills gap too, says Aaron: "Apprenticeships are critical in terms of filling the skills gap in the tech industry. We nurture and grow our own talent and we deliver an employment ready curriculum, fit for purpose.
"An apprenticeship offers you a real academic program. People often think it is very vocational and skills- and labour-based, but they are actually very academic, right from level 3 up to level 7 – up to degree level. They are then supplemented with vendor qualifications, which are recognised in the industry and offer real value. They also offer real skills on the job; you deal with real customers and provide real customer support."
At UKFast we're incredibly proud of our Apprenticeship Scheme; because of both our amazing training and education department and the superstar apprentices who've joined the team. We're always looking for ways to improve it, and are looking into expanding the scheme into more departments as we grow.
If this sounds like something that you – or someone you know – are interested in finding out more about, call us on 0161 215 4056.