eCommerce In-Depth
On 23rd August 1991 the first user accessed the internet and, 25 years later, the World Wide Web has completely revolutionised almost every area of our lives. One industry that's seen unprecedented transformation is retail and, in this increasingly digital landscape, to set yourself apart you need to not only embrace eCommerce, you need to keep up with the pace of change too. As the festive season approaches, it's vital to get clued up on the key trends for the year ahead and ensure that you're on track for success; the good news is, this is easily done with a bit of graft, especially if you have events like eCommerce Live UK to go to.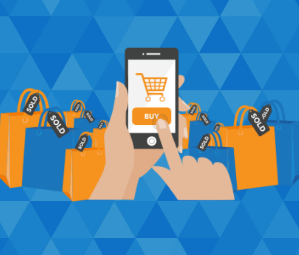 Ask pretty much anyone what their favourite piece of tech is and they'll probably say 'my mobile'. The figures reflect this too; Google is prioritising sites that are optimised for mobile, we're an increasingly remote workforce, and the landline is practically prehistoric. And yet how many times a day do you try and access a site from your phone and find it a confusing, clumsy experience?
Having a site that can be easily accessed anywhere makes all the difference between a happy customer and a missed opportunity; and once customers are on the site they want a clear, relevant and engaging journey. Sounds simple, but it's easy to get wrong.
At eCommerce Live UK you'll hear some of the experts sharing their secrets of what makes a successful eCommerce business tick as they go in-depth on the key trends in online retail for 2016, including mobile, UX and how you can increase conversions in the rush up to Christmas.
Here's a flavour of what you can expect to hear on the day.
The Mobile Revolution
mCommerce in the UK is expected to be worth 30 billion euros this year, an increase of more than 25% compared to 2015. At eCommerce Live UK you'll find out how mobile is revolutionising the way we shop and how cloud plays a huge part in integrating eCommerce applications.
Engage, Convert
Personalised recommendations can increase conversion rates by up to 5.5 times and the impact of UX and AI is unprecedented when it comes to brand perception, customer acquisition and retention. You'll get the lowdown on how data intelligence is making 2016 the age of the consumer as retailers strive to design the ultimate shopping experience.
Date: Wednesday 14th September 2016
Time: 2-6pm
Venue: UKFast Campus, Manchester, M15 5QJ
The event is an incredible opportunity to hear from industry experts as they share exclusive insights into conquering mCommerce. Take away top tips from Apadmi Enterprise's Matt Hunt and serial digital entrepreneur James Bilefield as they discuss new mobile technologies and changing consumer behaviour. You'll also get top tips from industry experts on CRX, UX, the Brexit Effect and preparing for Black Friday.
Spaces are limited so make sure you don't miss out!
If you want to get involved in the lead-up to the event, find us on Twitter at #eCommerceLive16!