How to Choose your Ideal eCommerce Host
Deciding which web hosting provider to pick for your eCommerce site can range from confusing to downright stressful. This is partly because web hosting is a bit of a dark art – while most people will visit websites every day, few will think about what goes on behind the scenes in order to reach those sites, and the huge impact a host can have on a site's success. Luckily it doesn't have to be complicated, and there are some web hosting best practices that you can follow to achieve great things for your eCommerce site. Our latest whitepaper breaks down what web hosting is, and how to pick the host that's going to help you make the most of your site.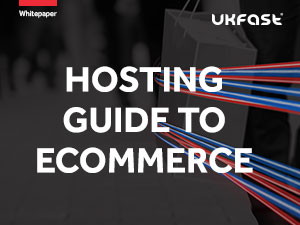 A single second delay in a website's loading time can result in a 7% loss in conversion, and 40% of web users will abandon a website if it takes longer than three seconds to load; so, if you want your site to be a success, you really can't afford to be anything less than prepared.
To give you a taster of what's to come in our handy Hosting Guide to eCommerce whitepaper, here are three best practices to keep in mind when getting started:
1. Finding your ideal cultural fit
It might seem a bit weird to be talking about culture alongside something as technical as web hosting – you just pick someone who's going to keep your site running, right? But having a host with shared cultural values can actually give your business that all-important competitive edge.
When you're looking for a hosting partner, there are certain cultural considerations that might seem small at first, but in the long-run will have a big impact on your road to business success; from whether the organisation has a more corporate or entrepreneurial mindset, to how hands-on you want them to be.
2. Finding your ideal technical fit
Making sure you're hosting with someone who can offer you the right technical support is going to be a huge consideration for any site. Significant seasonal trends mean a scalable eCommerce hosting solution is preferable to one-size-fits-all, and it is vital that your host understands and caters to such needs.
Other technical considerations that are less obvious but equally important include whether the host has infrastructural control, which will improve the security of your data, and whether it can give you the support you need, 24/7/365. Carefully review your SLA (Service Level Agreement) to ensure you have the support you need, and aren't caught out at three in the morning with a problem that you can't solve.
Your host should give you peace of mind that if any issue does arise it will be resolved quickly and have minimal commercial impact, so that you can concentrate on the bit that you do best – making your business a success.
3. Finding your ideal strategic fit
Looking to the future a little, you'll also want a hosting provider who can make a positive contribution to your commercial and technical strategy so that your business is growing, not stagnating.
Your hosting provider should be proactive, reassuring, and have solid industry expertise. A big part of this is accreditations, so that you're not just taking their word for it. Discover which industry-wide accreditations your host should have so that you can have confidence in your hosting partnership.
Our whitepaper expands on these three areas, so you know exactly what questions to ask, and you're able to partner with the right people.
If this is whetting your appetite for providing a top eCommerce experience, we're also running eCommerce Live UK, an afternoon of expert insights at UKFast Campus on Wednesday 14th September; sign up now and make sure you've got all the info you need to succeed.
Don't settle for second best – find the host that's perfect for you!