An A-lternative Way of Learning
For many of us today is just another Thursday – we might be wondering what's for lunch, or if it's socially acceptable to spend the entire weekend hiding in a sofa fort (answer: it is). For thousands of 18-year-olds across the country though, today is A-level results day; a day of excitement, stress and big decisions. When I was at school, uni was really the only option, but now there are some great alternatives being talked about. At UKFast we're big advocates of the importance and value of apprenticeships, so we asked our apprentices why they think it's a great route to take.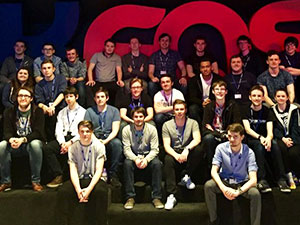 Here at UKFast we've always been big fans of apprenticeships and, because our training and education team put their heart and soul into our award-winning Apprenticeship Scheme, our apprentices have done incredibly in their time here.
If you run a business there are so many benefits to opening your doors to apprentices; you can train them to meet the exact needs of your business so they'll slot right in when they've finished training (or even before then, as you'll hear below!), figures show that productivity increases with these bright young things on board, and there are even grants for some businesses taking on apprentices for the first time.
But today is about the apprentices, and the apprentices of the future. At UKFast we take on 16 to 25-year-olds who are keen to learn and become a vital part of the business, across a range of teams from tech to events.
Their hard work, and that of our training and education team, must be paying off too because they've incredible progression within the company; for example, our two maintenance apprentices have just passed their one year qualification and started specialising to become an electrician and joiner, and higher up we have apprentices moving from level three to four – in the longer term we even want to offer the chance for apprentices to do degree apprenticeships here!
Beth, one of our Research and Development (RnD) apprentices, took up an apprenticeship after she didn't get the A-level results she was hoping for. Here she talks a bit about her experiences so far.
"I have been at UKFast for six months now and my role has developed considerably. I began with just doing training every day and then progressed to making an app for the Manchester Triathlon Club. Then the business decided to create something for the employees to use, so we moved up to the RnD department and made the app which is now available. Now I am working on the latest app and I have a lot more responsibility than when I first started.
"The most fun and surprising thing for me about the apprenticeship so far is working on a real commercial project so quickly – I expected that I would have to finish the apprenticeship before I was allowed near one."
Beth has big plans for the future that prove there's no limit to the great career progression that apprenticeships can offer.
"In five years I would like to be a senior Android developer and to see the app team grow to at least three times the size it is now. I would also like to be involved in the training of more apprentices to help them into programming."
Our second apprentice, Matt, is also in RnD and chose an apprenticeship so he could learn and develop his skills in a profession whilst also earning money, which he's found to be the biggest benefit of doing an apprenticeship. His proudest moment so far was when he was asked to join a team in the RnD department to help with their projects.
At UKFast our apprentices are familiar faces across the company and get stuck into all areas. Matt describes their role in the wider company: "I see apprentices working in several different teams across the business. I think this is really good because people have the option to find something they enjoy doing and start contributing to that team while they are constantly improving their skills."
If you – or someone you know – is considering an apprenticeship then that's great news! The guys share their insights on what it takes to succeed as an apprentice.
Beth says: "An apprentice needs to be committed and ready for whatever challenges they are faced with, from helping at the data centre to talking at events. They also need to be prepared to do work outside of work hours to ensure they meet their deadlines."
And Matt agrees: "I think anyone with a good working attitude who isn't sure about going to university and wants to start working and earning while still developing their skills should apply for an apprenticeship."
You heard it straight from the horses' mouths – there are opportunities out there for those that want them, so take a look at our website for more info on all the amazing work our training and education team, and our apprentices, are doing.