We Ask a Winter Olympian About Tech in Sport
It's very unusual for me to be in a gym (I was lost both times). It's even more unusual for me to be in a gym with an Olympic athlete. But today I was in a gym, on purpose, and talking to Winter Olympian Bex Wilson who was here to run training sessions for the UKFast team. Everyone had an incredible time and she is genuinely one of the loveliest – and strongest – people I've ever seen in real life. We had a quick chat about tech in sport.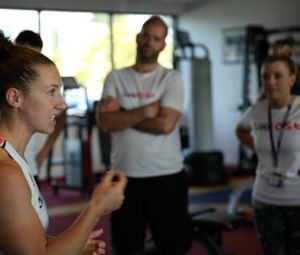 With the Olympics on lots of people will be seeing sport tech in action but won't even realise it. How do you see the role of tech in sport at the moment?
It's quite a broad subject but as a coach and athlete myself it's evolving all the time because humans always want to go better and faster, and improve all the time, so the big thing is constantly having to keep up with these new technologies.
I think in the gym it's evolving a lot with the training and use of equipment, in terms of bands and assistant weights and different training methods, rather than the tech necessarily, but when you go sport-specific you're looking at electronic timing and sleigh pulls and different parachutes.
Then the role of tech is greater but the only issue is cost, and that's the greatest divide because tech is costly, so then you have to be quite creative with training methods if you can't afford it.
So do you think there are obvious differences between those that use tech and those that can't?
I think it divides the people that have that drive and really want to succeed. If I go back to my own experience as an athlete, in my year running up to the Olympics I wasn't funded so I had to source my own sponsors – there was a gym in Runcorn and a physio that sponsored me – but equipment-wise I didn't have anything.
I would be jumping on grit boxes in the street rather than plyometric boxes, which cost thousands of pounds, and everything was hand timed; I had no electronic timing so I relied on my coach for that. I also took a trolley from B&Q and used that instead of a bobsleigh, so that's where the creativity comes from, but it shows that in anything physical you can still achieve, you just have to think outside the box.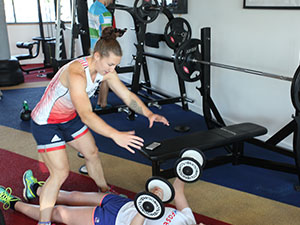 Clearly it hasn't stopped you anyway!
No but sometimes you can't get away from it – take cyclists for instance, if one has a £10,000 bike and another has a £1,000 they'll be at a disadvantage, so the higher up you go the more of a disadvantage you'll be at if you don't have the right tech and equipment.
For those of us not quite at Olympic level, what tech would you recommend?
I think the Fitbit has done really well – everyone has one now – and they're good for people trying to get into sport because the hardest thing when you're not in a routine with sport is motivation. I live above a Tesco Extra and it's so easy to walk in and get a cake, so if you can look and see that you've burnt 500 calories it's instant feedback. So if you have apps or watches, even if they feel a bit gimmicky, if it gives instant feedback or makes you feel good then it's worth it.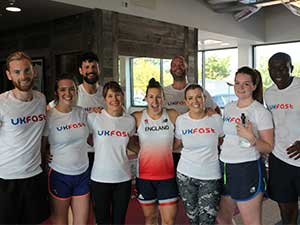 What's your favourite piece of tech?
In a sporting capacity it's got to be electronic timing – I'm saving up at the moment to get that, it's £800 – and it records your speed through two poles. Out of sports I'd have to be boring and go for my iPhone, I'd be lost without it.
Bex is a 2011 Junior World Champion, 2014 Winter Olympian, Winger for Waterloo Ladies RUFC and Ambassador for the Diane Modahl Sports Foundation, which UKFast is the official charity sponsor for.
If you're a fan of lunchtime workouts (with the odd Olympian coaching you), then UKFast might be the place for you, take a look at our careers page!