Fast Impressions Count
With a single second delay in website load time resulting in a 7% loss in conversion and 40% of users said to abandon a website if it takes longer than three seconds to load, nowadays you really can't afford to make a slow first impression. On September 14th we'll be sharing the top tips for eCommerce excellence at eCommerce Live UK; join us there and discover how to make the best possible fast impression!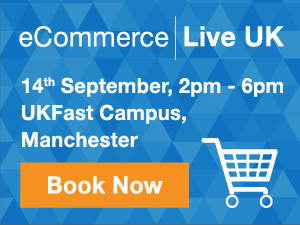 Online retail sales in the UK reached an estimated £52.25 billion in 2015, with the average shopper spending an incredible £1,174 online. It's understandable – with tech making shopping a stress-free experience, why would you want to brave the shops, especially around Christmas?
From a retail point of view, this is an incredible opportunity, one that you literally can't afford to miss out on. This is where eCommerce Live UK comes in.
At the event you'll hear our CEO Lawrence Jones MBE talk about the importance of website speed and uptime. With over 16 years keeping eCommerce sites up and running, you'll discover how to prepare for seasonal peaks in traffic around Black Friday and Cyber Monday, avoid downtime during this crucial spending window and win the race for visitors in the rush up to the festive season.
Christmas will be here before you know it – are you prepared?
eCommerce Live UK is on Wednesday 14th September from 2-6pm at UKFast Campus; spaces are limited so make sure you don't miss out!
If you want to get involved in the lead-up to the event, find us on Twitter at #eCommerceLive16!