The Unexpected Benefits of Our MBA Scholarship
Last week we announced that the deadline for our Masters of Business Administration (MBA) scholarship has been extended and while the money is an obvious – and for some, crucial – reason to apply, as our CEO Lawrence rightly pointed out in his blog last week, it isn't everything. There are the obvious benefits to doing an MBA – from how qualified you'll be, to how respected the institution is to name a few – but there are a few other things that the scholarship offers to help set you apart from the crowd.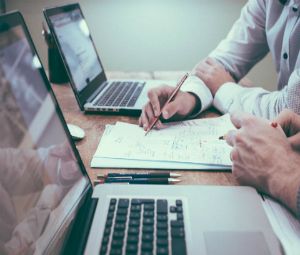 Do you live and breathe business? Is entrepreneurialism your everything? Alliterative hyperbole aside, if this is striking a chord then you could be the one that we're looking for; the hero that Gotham needs.
That's because, when it comes to our MBA scholarship at Manchester Metropolitan University, we're looking for someone pretty special, because it's a pretty unique opportunity.
Alongside the £6,000 that the scholarship provides to help one rising business star with the often-prohibitive cost of higher education, and the incredible teaching and opportunities the course opens up, coming through our scholarship offers extra opportunities for the person who will go out and grab them with both hands.
First up is a mentor. Our CEO Lawrence Jones MBE is a self-made man; he didn't go to university and he's very open about not being particularly academic. But if there's anyone that can tell you about the power of tenacity, it's Lawrence. If you ask for it, he will be there to offer over sixteen years' worth of insights from taking his company from a back bedroom to a multi-million pound, 300-employee-strong business.
Lawrence has always been a big believer in building a community in Manchester that everyone will benefit from, and an advocate of having a strong network to draw on. In his personal blog last week he said: "I have committed to this to give the scholarship recipient a head start in the Manchester business community. Alongside academic success, businesspeople need real-world experience, they need connections and they need a network around them."
Apply now
Widening this network even further is the rest of UKFast, and the UKFast connections. Yep, you'll have the opportunity to come down to the madhouse for UKFast events, which see expert speakers offer their opinions and advice on a huge range of business and tech topics – in just the last couple of months we've welcomed the likes of Cisco, Dell, Microsoft and the editor of Wired UK to the stage.
One of the events you'll be joining us for is the Digital Entrepreneur Awards (DEA) in November. It's where the crème de la crème of the digital and business community come together to celebrate achievements, network and generally have a great time. You'll get the chance to rub glamourous shoulders with the UK's most innovative, fastest-growing digital teams and companies; it's a truly incredible opportunity.
The deadline for the scholarship is 11th September.  To apply just produce a 60-second video selling your business idea for a new or revised product or service and, if you're the winner, you'll be cranking up the next level of your entrepreneurial journey on the MBA in October; best of luck!
This is a life-changing opportunity that will be whatever you make of it – apply now and take the next step on your career!
Apply now