Teambuilding on Track
There's a famous saying that's something along the lines of 'the company that runs together, stays together'. I'm pretty sure that's it. Well, if you want to challenge your team, raise money for a good cause and take home the not-at-all-dubious title of 'Fastest 10k Company in the North West' then today is your day!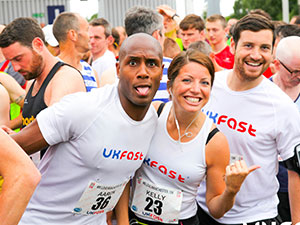 The time has come to dust off your top-of-the-line trainers that were meant to motivate you but you only wore once, notify your team that they're about to become famous in Salford and the surrounding area, and start limbering up, because this year's UKFast City of Salford 10K Corporate Challenge is ON!
The challenge commences on Sunday 4th September at the UKFast Salford 10k and, in case you were hoping to get off on a technicality, is open to all businesses that can rustle up a team of three or more runners – the first three runners will be the ones that count towards the challenge itself so make sure you put your best feet forward.
The first team to cross the finish line will be recognised as the champions of the UKFast City of Salford 10K and take home a trophy for their team. The winning team also receives a special visit to their workplace from former world record holder marathon runner Dr. Ron Hill MBE. You can see Ron in action at UKFast in the video below.
It's not all about winning though. As Kevin Harmer, UK Events and Sponsorship Manager, said: "The UKFast City of Salford 10K Corporate Challenge is a great way of raising awareness of health and wellbeing in the workplace as well as creating some friendly competition amongst local businesses! It's also a fantastic opportunity for companies to raise money for their chosen charities."
The Christie, one of the largest cancer treatment centres in Europe, is the official charity partner but you're welcome to run in aid of whichever good cause you wish.
Last year the run saw over 3,500 runners going for gold, so if you want to be one of these Salford superstars get yourself down to the MediaCityUK piazza on Sunday September 4th. The route heads east on the closed roads along Broadway, nips round a quick tour of Trafford Park, then heads back across the MediaCityUK bridge for the grand finale where it all began, back at the MediaCityUK piazza.
Lycra is optional.