Lifting the Lid on eCommerce Live
As an eCommerce vendor, your customers wouldn't expect to purchase something without any information about how it works or how it'll benefit their lives; in the same way, you wouldn't be expected to sign up to an event without knowing whether it's going to be worth your time. At eCommerce Live UK on Wednesday 14th September we'll be going in-depth on eCommerce, but first we're going in-depth on eCommerce Live!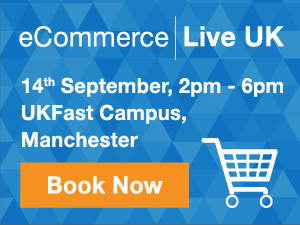 How are the latest innovations in eCommerce impacting spending? This is a question that anyone who has an interest in eCommerce should be thinking about – it's a tech-driven market and your place within it will be determined on how you adapt to these changes.
eCommerce Live UK can help you with that. At the event you'll get to grips with how multichannel selling and innovative payment options such as Apple Pay and the unprecedented delivery speed of Amazon Prime are altering consumer expectations about the way we shop, and piling on the pressure for eCommerce businesses to keep up with the digital transformation.
Whether it's virtual reality changing rooms to reduce returns, or automated drone technology improving delivery efficiency – which new technologies should your eCommerce business adopt in order to stay ahead of the competition?
We'll also be discussing the 'Brexit effect' and examining how data management, GDPR and cross-border selling will change for eCommerce businesses in light of our impending exit from Europe. Hear first-hand experiences from eCommerce businesses leaders about the opportunities and challenges that Brexit presents.
So, who's sharing these insights and why should you listen to what they have to say? Our speakers are:
Matt Hunt, CEO Apadmi Enterprise
Matt is a master of mobile, having spent the last 14 years becoming an expert in all areas, from helping businesses establish their mobile strategy, to creating and integrating mobile apps into vast legacy systems and successfully implementing these for flagship projects.
Dr Dave Chaffey, CEO Smart Insights
Dr Dave is the author of five bestselling books on eCommerce and has been recognised as one of 50 marketing gurus worldwide who've shaped the future of marketing by the Chartered Institute of Marketing.
dotmailer
Hear about eCommerce from the other side of the fence; dotmailer is a leading marketing automation platform with email at its core, used to manage the email campaigns of internationally recognised brands.
We'll be announcing more topics and speakers over the coming weeks, so make sure you tune in every Tuesday for the eCommerce insights!
eCommerce Live UK is on Wednesday 14th September from 2-6pm at UKFast Campus; spaces are limited so make sure you don't miss out!
If you want to get involved in the lead-up to the event, find us on Twitter at #eCommerceLive16!