The Buzzword With Actual Benefits
Employee engagement is increasingly becoming the hot topic of the moment. Lowri has the insights from our recent round table on the topic.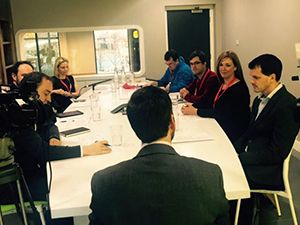 Defined as a workplace approach resulting in the right conditions for all members of an organisation – including commitment to their workplace goals and values, motivation to contribute to organisational success and an enhanced sense of their wellbeing – employee engagement is a buzzword in the workplace.
With research stating that 64% of disengaged employees would leave their workplace for a 5% decrease in pay, it's only becoming clearer just how important employee engagement is.
Craig Hines, managing director of Vedas recruitment, believes it's essential to address employee engagement in the workplace.
He said: "Looking at research, it's shocking to see the productivity of some manufacturing services dropped by 15% in just a quarter. The financial service industry too – an industry expected to be forward thinking and innovative actually dropped by 8%.
"If we offset that with growth figures you can see that if we can do something with that productivity decline we could do something with that growth. There are a lot of factors we have no control over such as Brexit and that can be quite demotivating for leaders, whereas employee engagement is actually something we can do something about. Leaders can grasp, manage and make some real tangible differences to the output of the people in the business."
Michelle Gray, head of employment at law firm, Berg, believes workplace design is an important element of employee engagement.
She said: "The term employee engagement has been thrown around for decades; I think the new buzzword now is wellbeing. It encapsulates employee engagement, but I think there's a wider, more holistic approach to it. Take for example commercial development in Manchester city centre – offices are now being designed to engage staff, and ensure their wellbeing and productivity, which is becoming increasingly more important."
Ronnie Wainwright, partner at Avensure, agrees. She believes listening to employees is important, but actually doing something about it is key.
She said: "The critical element is that it's implemented into a workforce. And that something genuinely happens. Employees have more of expectancy as opposed to implementing employee engagement just for the purpose of retaining staff."
Want to hear more about the importance of employee engagement? Listen to our experts' top tips video here.
If you're interested in debating the hot topics of the day at our round tables, take a look at our web page. YOu can also sign up to our YouTube channel to get the latest videos and insights from our film team!