The Five People You Meet in Heaven
According to the bestselling book 'The Five People You Meet in Heaven' there will be five important people waiting for you in paradise. Well, Cloud UK Live may not quite be heaven (there are enough clouds for it but nowhere near enough chocolate cake), but if you're a cloud enthusiast it's close enough; the cloud-focussed event played host to five superstars of the tech world and went in-depth on one of the hottest tech topics of the day. The good news is you don't have to wait to hear their thoughts, we've got exclusive footage from the day, plus the opportunity to make sure you don't miss out on the next one!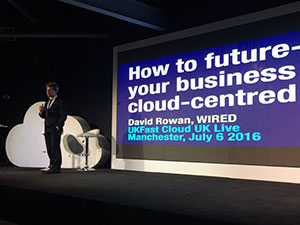 Hearing people at the top of their game talk about a subject you're passionate about or that's relevant to your business (or, if you're one of the lucky ones, both), is a dream for many; hearing five of those people speak in one day can be a game-changer.
We recently brought together our key industry partners and tech titans for Cloud UK Live; a day dedicated to exploring the latest shifts in cloud technology and the digital transformation that's creating the businesses of the future.
Visitors heard about maximising power and efficiency from the cloud first-hand from our expert panel, and had the chance to fire questions back. We welcomed to the stage Jo Laking of Cisco, David Rowan editor of Wired UK, Peter Barnes from Dell, James Akrigg from Microsoft and our own director of enterprise Dr Chris Folkerd, for what was an absolutely incredible and informative day.
Hear what the speakers had to say in our video:
Cloud UK Live 2017 is coming up in February and promises to be just as epic – registration has opened so whether you enjoyed the first one or don't want to miss out on the next, sign up now.