We Love MCR!
If you heard that 30-odd UKFasters recently got up at ridiculous o'clock on a Sunday morning to run 10k, you'd be forgiven for thinking that we had finally snapped; let's face it, it's been on the cards for a while. But at UKFast we're big fans of running, of Manchester and of a good time; which is why there was a method to our madness when, bright and early one Sunday this month, we donned our running gear and went to join the crowds in the sun at the We Love MCR 10k! We've got behind-the-scenes footage of the blood, sweat and tears (of joy) from the day – and an opportunity for you to get involved too.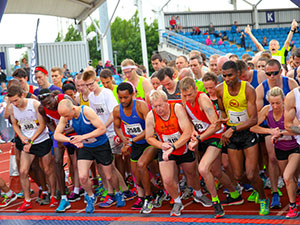 With over 3,000 entrants in 2016, the We Love MCR 10k is fast becoming one of the most popular 10k events in the North West (this is essential information because presumably those of you that were there can use this to show off at dinner parties and include in Christmas family newsletters) and we were incredibly proud to be sponsoring the event.
In all seriousness, while 10k runs are pretty much my nightmare (I was obviously using the royal 'we' when I said we took part in the run in the intro), for anyone with an athletic bone in their body they're also a great way to stay fit, socialise and raise money for a good cause.
Continuing UKFast's three year deal with Sports Tours International, next up is the UKFast Salford 10k and we'd love for you to join us on the start line down at the MediaCityUK Piazza on Sunday 4th September!
For an idea of what you're letting yourself in for (hint: it's a whole world of fun), our intrepid film team was also up and about on at the race on the 10th of July to film the rosy cheeked, sprightly UKFasters that were smashing their personal bests, cheering on the other runners and soaking up the atmosphere.
If you're kicking yourself right now for missing this glorious opportunity then fret not, you can sign up for the UKFast Salford 10k! The entry fee is usually £20, but with our £5 discount, you can get it for £15, so no excuses.
Sign up for the UKFast Salford 10k now with the code UKFast5 for £5 off!