On Track for Success
Running has about a million benefits; it's free, you can work on your tan (if you're running on a sunbed), it's great for your health, it clears the mind, and there are clear links between sporting prowess and business success. Okay well that's five benefits and at four o'clock on a Wednesday afternoon that's the equivalent of a million at any other time. We recently sponsored the We Love MCR 10k and it was an amazing day – now we're asking you to lycra-up and join us for the UKFast Salford 10k too; we even have a special offer for you lovely lot!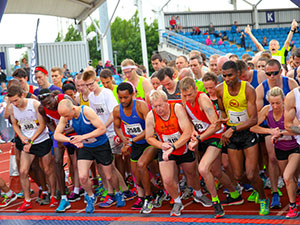 On Sunday 10th July, earlier than any human should be up and dressed in sportswear of a weekend, the UKFast team and hundreds of other running enthusiasts, intrepid sporting newbies, and people who were just plain mad, went down to Sportcity Manchester for the We Love MCR 10k. It was an incredible day and everyone had a cracking time – thank you to everyone who made the day so great!
Continuing UKFast's three year deal with Sports Tours International, next up is the UKFast Salford 10k and we'd love for you to join us on the start line down at the MediaCityUK Piazza on Sunday 4th September!
It's a great opportunity to have a little jog around the city, try and beat your personal best ('PB' as they say in the biz) and get that chest muscle of yours in good shape while feeling like a total rockstar as you cross the finish line to all of the cheers and much celebrating.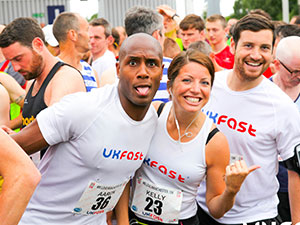 If all of those reasons aren't doing it for you, do it for the swag – you'll get a 'goody bag' (to find out what's in there you'll have to come down), massages from local physiotherapists and free face painting and balloon making for your little ones.
There are also cash prizes for the first three in each of the men's and the women's categories of 1st £250, 2nd £150, 3rd £75, as well as prizes for the Vet categories (although if you win a prize in the overall places, you don't qualify for your age group prize, because no one likes a glory hunter).
The entry fee is usually £20, but with our £5 discount, you can get it for £15, so no excuses!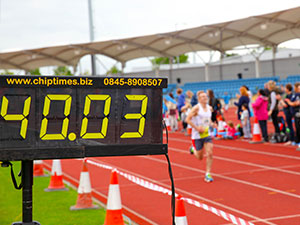 To get yourself in the mood (or relive the good times, if you were at the UKFast Manchester 10k), take a look at the pictures from the We Love MCR race – they're grimaces of joy, we swear.
Seriously though, this is a fantastic opportunity to push yourself and get involved – you'll even get to meet some of the UKFast team, which is reason enough to go anywhere. So go on, dig out your running shoes and get training – we'll see you there!
Sign up now with the code UKFast5 for £5 off!