The People Have Spoken
If there's one thing that you hear from any successful tech company, it's how important the people are (ironically). From clients to empoyees, UKFast prides itself on having people at the heart of everything it does; an approach which pays off in spades, which is evident in the fact that UKFast has just been named one of the best workplaces in Europe!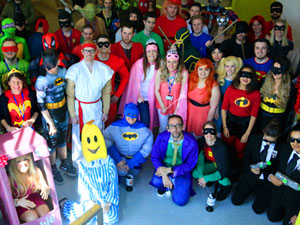 Despite fears that one day tech will make us redundant, talk to any successful tech company and they'll tell you that it's all about the people; when we're sat on our hover chairs being fed bio-squares by robot assistants, we'll still need people adding that human touch in tech companies.
That's why our CEO Lawrence invests so much into his employees, and the proof is in the pudding, which in this case is a delicious slice of Best Workplaces Programme pie. This year we've been named 35th in the list of top European businesses to work for, and claimed the top spot for small and medium-sized British tech companies in the UK, which we think is pretty incredible!
The European list follows a UK version published earlier this year, which included us for the sixth time when we were named the fifth best small and medium-sized workplace in the country.
Lawrence said: "The Best Workplaces list is a great honour, because the results are based on the opinions of the team I work with every day. We always listen to the feedback we receive from the survey and make immediate changes to keep the team happy and motivated. It's one thing to have nice offices and fun perks, but I've learnt that what really matters to people is an opportunity to learn and develop in their jobs."
As Lawrence has rightly highlighted, the perks at UKFast make us feel valued and want to give our best, but the opportunities to develop here mean that we are able to go that extra mile for our customers, and we, as employees and as people, are always improving.
Our £4.5m in-house training and development centre, which puts training at the heart of the company's growth strategy and offers courses from journalism to coding, encourages every member of staff to find something they're passionate about and develop themselves.
We're thrilled with the result but, never one to rest on their laurels, Lawrence and the rest of the team will continue to invest and support until we're number one!
If you want to work for one of the top companies in Europe then take a look at the openings on our careers page – we have lots of opportunities available for the next UKFast superstars!