Categorically Incredible
As the deadline for the Digital Entrepreneur Awards approaches we're going in-depth on some of this year's categories; take a look, this could be your 'that's me!' moment, and your chance to get the recognition you deserve. We're incredibly proud to once again be headline sponsor of the country's longest-running awards dedicated to digital entrepreneurialism; we hope you'll be just as proud to be involved!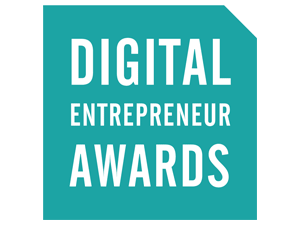 Digital Entrepreneur of the Year
We understand that it takes a team to form a great digital business and a whole company to supply or utilise a great piece of technology. This award however gives credit to an individual or pairing who represents true pioneering advancement in digital. Quite often there is someone within a team driving things forward, predicting trends, doing things differently and getting great results.
You can nominate yourself for this award or you can nominate someone else. Perhaps you're a business owner commending your supplier, an agency who sees something in your client, or maybe you feel someone within your team is a true entrepreneur.
The judges want clear evidence why this person is a digital entrepreneur. Success can be measured in terms of new business, financials, creative output, business growth or the effect you're having on a team or business.
Digital Business of the Year (Medium to Large)
This award is split into small and medium to large categories to recognise the incredible breadth of entrepreneurial talent using digital to make a name in their industries.
The judges want to see a clear indication of success. This award is not about an individual piece of work but a consistency throughout the year and a collective entrepreneurial approach to business. It is as much about the company's relationship with digital as it is the successful projects themselves.
What's your business doing above and beyond the rest and how can you prove what your business has done to make you the DEA Digital Business of 2016?
Digital Team of the Year
This award recognises individual departments or teams. You may not work in a digital industry but your team must be working on digital or technology-related projects that are impacting on the wider business.
The judges want to hear about the internal teams using digital to push the business forward, either in relation to technological capability or digital output.
You could be made up of marketers, techies and or developers. Perhaps you've developed a can't-live-without internal system or maybe even an ethos for digital across the business? Is your tech-support team offering first-rate customer service or is your marketing team transforming your business's online presence and driving your growth?
Most innovative Video and Animation
Video and animation can be used to transform a brand from obscurity into a household name.
The judges are looking for an online video or animation with function and personality that sits at the heart of the business strategy and brand development. Are you using innovative animation to drive traffic or explain a complex process? Is your video notching up thousands of views?
Arguably one of the DEA's most creative awards, it aims to seek out the talented film teams and animators who can create pieces of work that connect with their audiences like no other. Alongside the creative concept of the project, please talk about the strategic reasoning for the project and the results you're seeing.
Digital Innovation in the Public Sector
Technology should make all of our lives easier and more efficient but entries in this category should be genuinely life changing.
The UK Public sector has one of the trickiest technology challenges of all. Moving with the times, making services more accessible, saving time and money whilst protecting customer data, appealing to a mass audience while welcoming the less digitally-savvy.
The judges want to hear from public sector bodies actively embracing technology. The change can be all-encompassing or as simple as a new app, or process as long as it's having proven results and shows innovative thinking.
eCommerce Developer of the Year
Are you the developer or development team behind some of the web's most successful eCommerce sites?
The judges are looking for outstanding architects of the web, who consistently enable their clients' eCommerce platforms to deliver high volume sales whilst providing an excellent end user experience.
They're looking to reward the developers working behind the scenes to pioneer new techniques and systems at the heart of the e-services industry, creating the extraordinary transactional websites that make the UK's eCommerce industry shine on an international stage. Developers; it's time to get the recognition you deserve.
If you think one of these categories has your name on it then don't delay, enter now – deadline for entries is Monday 11th July!
For more information on any of the categories visit the DEAs website! There you'll also be able to enter for an award – it's just three easy questions! – and book a table for the night.