Serving Up Faster Growth
When you trust a company with your data you want to know they've got your best interests at heart. A good company will do what they promised you; a great company will do more. We're always looking for ways to improve our customers' lives, and our new data centre investment will do just that!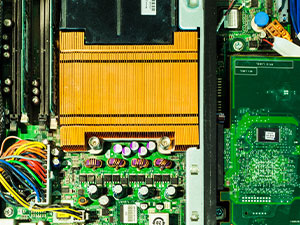 The days when you could make a brew, catch up on the office gossip and listen to Bowie's entire back catalogue in the time it took you to get online are long gone. These days speed reigns supreme, which is why we are constantly looking for innovative ways to help our customers get online and process data faster so that they, in turn, can deliver the service their customers expect.
We're delighted to announce that we've just made a million-pound investment in Dell server technology, which means that we can deliver new automated launch functionality – if that sounds too jargony, it boils down to our customers having the capabilities to launch a new server within minutes, which is pretty incredible! No fuss – just the solution you want, fast.
Our CEO Lawrence Jones said: "In the last eight years we have developed our business alongside our partnership with Dell. Working with a reliable technology provider, combined with our incredible support and expertise, we are guaranteeing the best possible service for our customers. We are now in position to launch a dedicated server faster than ever before, which is great news for the ecommerce marketplace."
Housing our new tech – and keeping it maintained and running to the highest standards – are our wholly owned and UK-based data centres; which means you don't have to worry about costs rising when landlords put their prices up, and you don't get a data sovereignty headache.
They come in at a glorious 30,000 sq ft. of enterprise-grade, custom-built hosting facilities and they're also well protected; our new investments – as with all our servers – are ISO 27001 and 9001 certified and secured to UK government IL4 standards.
We also recently announced a Data Centre Support Hub complete with luxury sleep pod for overnight monitoring, so it's a pretty great time to be getting involved!
You can take a virtual tour of our data centres, and UKFast clients can request a tour IRL too – take a look at our data centres web page to find out more: