We're very proud to be headline sponsor of the Digital Entrepreneur Awards once again this year. As the first of the DEA 2016 judges are announced, the team shares which industry legends will have the honour of judging this year's entries!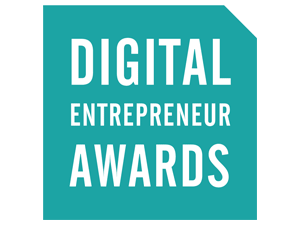 Receiving feedback from an idol is – for many – a lifelong dream. If you're a football fanatic, you want the nod from George Best; if you're mad keen on music, you're going for Beyonce or Kanye; if you're an entrepreneur, a stamp of approval from one of the DEA judges tells the industry that you're one to watch.
The entries are open, the seats are filling up and the judges are mentally preparing themselves for the unenviable task of deciding who will be taking home the crowns in this year's awards. The DEAs are an incredible night to recognise and celebrate digital entrepreneurial talent across the industry, to mingle with other digital devotees and entrepreneurial enthusiasts and, of course, to enjoy a glass of bubbly or two.
These industry legends have many years of experience and success between them – here's the first group of judges that will be deciding who deserves the top spot in this year's awards.
Lawrence Jones, MBE, Founder and CEO, UKFast: Lawrence is the founder and CEO of UKFast – the web hosting company he set up in 1999 with his wife and business partner, Gail. An unwavering focus on customer service has seen the firm grow quickly and consistently to a £16 million turnover with 300 staff, without taking on any outside investment.
Jonathan Wall, Controller, Radio 5 Live and 5 live sports extra: Jonathan is Controller of Radio 5 live and 5 live sports extra, based at MediaCityUK. He is responsible for the editorial content, leadership and overall management of Radio 5 live and 5 live sports extra.
Tom Bloxham, Chairman and Co-Founder, Urban Splash: Tom's story may well have been an inspiration to many of this year's entrants. He sold fire extinguishers door to door, studied a degree in politics, and ran a market stall at Affleck's Arcade. When he realised that he was making more money sub-letting the space than selling his posters, he started regeneration company Urban Splash.
Steve Purdham, Chairman and Founder, 3Rings Care: Serial entrepreneur Steve has successfully built and exited several businesses, including Surfcontrol, a FTSE 250 company, as well as we7 (sold to Tesco) and Identum (sold to Trend Micro). He has also been involved in raising over £250m in funding from various financial sources including VC, flotation on AiM, EASDAQ and the London main market.
Claire Braithwaite, Tech Advisor at Manchester Growth Company: Claire has years of experience in the tech growth sector, having previously been Head of Tech North, an initiative being launched through Tech City UK to support digital entrepreneurship in the North of England. She was also COO for impact investment intermediary Clearly So and is the founder of sustainable beauty e-commerce website LoveLula.com.
Richard Law, Chief Executive, GB Group: Richard left school and went to work digging coal in Yorkshire when the coal industry was a cornerstone of the northern economy. He heads up Chester-based listed tech business GBG, which he's grown in valuation from £5m to £350m. He's also involved in a number of other fast-growing tech businesses including Zuto, RealityMine, ResponseTap and MotionLab.
Paul Bason, Director Digital Innovation, MMU: In his role at MMU, Paul is responsible for building relationships with broadcasters, agencies and other companies in the North West's digital media sector. He also oversees digital activities in the Shed, MMU's space for innovation and business and previously was the digital media innovations director at University College Falmouth.
Colin Stevens, Founder and CEO Better Bathrooms: At just 21, Colin began selling taps on eBay from his bedroom. Soon he expanded into other bathroom fixtures and fittings; and in 2001 betterbathrooms.com was born. Over the past 18 months Stevens scooped 17 awards including Entrepreneur of the Year win at the National Business Awards, Growing Business Awards and North West Entrepreneur of the Year Awards.
More judges are to be announced so keep your eyes peeled! The deadline for entries for the DEAs is 11th July – don't miss out, enter now: