Magento Live(ing The Dream)
Last week we took this show on the road and rocked down to our fair capital for Magento Live – a fantastic day full of eCommercers, BB8s and expert insights. In today's blog you can watch our MD Jonathan show listeners the real meaning of speed, and we're sharing some Magento 2 insights from the day as well!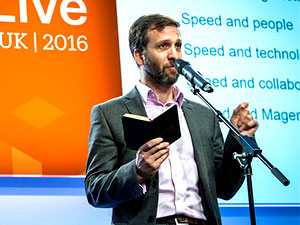 As you well know, we love Manchester – but sometimes it's necessary to go and spread a bit of northern charm to other parts of the country. We were returning once again as Gold sponsor of the infamous Magento Live – one of the biggest and most renowned Magento exhibitions in the world.
It was fun, fast-paced (as illustrated by the video below), and fantastic to see all the eCommerce enthusiasts there!  If you attended then you probably learned loads, but for those of you that missed out we have a few nuggets from the day for you.
Over the course of the event, Magento was keen to educate and push for migrations from M1 to M2; in case you're still undecided, we picked up some more info on the features that users can expect from the new version:
Enhanced business productivity with staging and preview functionality – A new and enhanced staging process makes it faster, easier and less expensive to create, schedule and preview future site updates and campaigns without involving IT. Merchants gain peace of mind that all updates occur at the right time and provide the optimum customer experience. The new feature also provides greater visibility into all planned updates with a user-friendly dashboard.
New Elasticsearch – A shift to the leading open source search technology, Elasticsearch, gives merchants the ability to easily handle large catalogs and scale up search functionality as traffic increases, is easy to configure and delivers high quality results.
PayPal enhancements – A more seamless checkout experience that allows PayPal users to complete the purchase process without leaving a merchant's site. In addition, merchants can now enable faster checkouts for repeat purchases by securely saving credit card information for customers with PayPal.
Braintree updates – Hosted Fields enable merchants to qualify for easier PCI compliance while still retaining complete control over their checkout design and layout.
Better business tools – A number of admin user interface improvements also help business users to more efficiently manage site operations.
They also mentioned a big back-log of Modules for review to go on the new Magento Market Place so keep your eyes peeled!
Our 'May the fast be with you' competition went down a treat too, and our swag was pretty good, if we do say so ourselves – congratulations to our BB8 prize draw winners!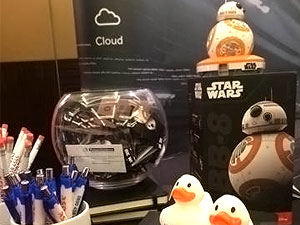 Finally, keeping it short and sweet is something that many of us struggle with, but when you literally have 90 seconds to speak, there's no time for messing about. Our managing director Jonathan did an incredible 90 second presentation on UKFast and speed – it's worth a watch just to see how much information you can actually fit into a short space of time! He touches on the ground-breaking work UKFast has done, and why speed is so vital to any successful site.
We have worked closely with our Magento partners in building the Magento Optimised Stack. Our eCommerce team are here to help you accelerate growth – trial one of our Magento 2.0 optimised servers for FREE.