National Women in Engineering Day
To celebrate National Women in Engineering Day, we talked to one of our ace Linux engineers, about her work at UKFast, why a career in tech was always on the cards and her advice to anyone (especially women) wanting to get stuck in too!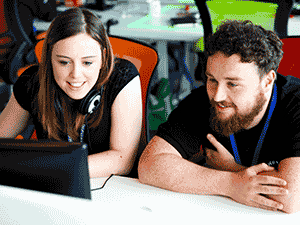 My job role is a Linux engineer, as well as one of the team leaders on our team. Our team responds to any support queries our customers have via phone or ticket, and provide support to our account and server managers for any technical questions they may have. My role is to help the team with anything they're stuck on and help to organise the team and the workload with the other team leaders.
My favourite parts about the role is that it's completely different from what the job title may conjure up; there's no sitting alone coding away in the dark – my job involves interacting with lots of different people from discussing issues with customers, liaising with the other technical teams and keeping the service managers up-to-date. Every day we deal with several new issues, and we get to have the satisfaction of solving a problem and helping someone out several times a day. We're encouraged to develop new products and to find ways to make our existing ones better – this means we get to play with new technology and software all the time.
It's a role I've been heading towards for a long time. I've always been prone to breaking things so needing to try and fix them became a necessity. This grew into a passion for problem solving which, combined with a love of a technology, meant I knew from a fairly early age that I wanted to work with computers (when my fireman dream didn't work out -I never did quite pay attention to gender stereotypes).
Fortunately I was never told that I shouldn't be interested in computers or technology and, aside from being slightly concerned how long I spent on our family computer, my parents pushed me to chase my dreams in whatever I wanted to do. At university again I never found there was an issue in being female – in my final year there were three girls and three boys on my course. However, my choice to specialise in Linux does seem to surprise most; when I tell people my job role the only responses I receive are 'a girl in Linux?!' (or for the non-technical 'what's Linux?').
My advice to young women in technology is probably the same as I'd give young guys as well – don't be afraid to ask questions and don't be afraid of looking stupid. Starting out in IT can be quite daunting when you come across people who really know their stuff and it can be tempting to try and act like you know everything. For women that may be looking to prove themselves in a sea of men this can certainly be an issue and was something that I have been guilty of in the past. Fortunately as I've grown into my role and become much more comfortable with my ability, I've seen how understanding where you lack knowledge and being able to identify who can help you gain that knowledge is a skill in itself. I've grown massively from accepting help from my colleagues on my team.
My only other advice would be to 100% go for it. The technology industry is booming, there's not a better time to get involved. The current scarcity of women should hopefully pique interviewers interest, giving you a chance to shine at the interview and own the role on your own merits. You'll be working alongside some of the brightest men (and ever-growing number of) women in some of the most exciting new companies around. The technological world is there and absolutely nothing is stopping you – as a woman or otherwise – from taking it.
If you reckon you could be our next superstar then we want to hear from you – take a look at our careers page!