Two and a Half Years at UKFast
One of our Comms veterans, Lowri, shares insights from her time at UKFast.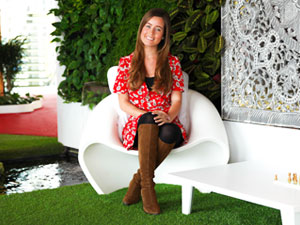 I've been working at UKFast for two and a half years now and I feel more motivated, inspired and driven than I've ever felt before in my life.
Back in November 2013 I turned up to my assessment day, not knowing just how significant that day would turn out to be. Amongst an awkward silence in a crowd of keen interviewees, I got talking to a girl with a camel coat. Now two and a half years on, securing the two job roles going; the girl in the camel coat and I are both on the comms team, enjoying every single working day, and friends for life.
My director and manager have been a support system like no other; guiding, teaching, and mentoring me to enable me to be the best person I can be, both professionally and personally. They've seen potential in me since day one; encouraging me to grow, develop and take ownership and responsibility every single day. I've learnt a great deal over the past couple of years from them both, so much so that I now feel confident, empowered and prepared to tackle anything that comes my way – both inside and outside of work.
Lawrence, our CEO, truly cares about everyone here; it's inspiring and encouraging and very unique. He has taught me such a great deal about life – he probably has no idea just how much. Setting goals is one of his main focuses, which in turn, has become mine. I write my goals down, I tell my friends, my boyfriend, my parents and my sisters to write theirs down too – even my grandparents have a goal book.
UKFast has become an extension of my personal life, with my family sharing my passion and commitment to the company, too. Setting goals is such a simple idea, but one that really resonates with me. This positive attitude of 'I can' carries me though every single day.
I've signed up for the London 2017 marathon, something I don't think I would have done if it wasn't for UKFast. This company gives you motivation like nowhere else and I am so excited, if a little nervous, to cross this amazing goal off my list!
This motivation and positivity is seen across the company; bursting out of everyone, and shining on through our clients. It's no wonder this place is growing at such an exponential rate.
My responsibilities have grown a great deal over the past two years; seeing the results and reaping the rewards is so gratifying. I'm now looking after a new team member; helping her to get to grips with workload, settle into the wonderful world of UKFast and helping to develop her confidence both personally and professionally – in the same way I was.
There are some amazing people at UKFast who I really look up to. I'm growing every single day and I only hope to become as influential to others, as these people are to me. I'm truly honoured to say I work here; I aim to live and breathe our core values, both inside and outside work – a set of values that I hope to carry throughout the rest of my life. Dynamic, innovative, passionate, professional and supportive.
I've never worked anywhere like UKFast, and at just 24, I'm already confident this company holds an extremely exciting future for me.
UKFast is a place you can grow as a person. It's a place like no other. If this sounds like the place for you, take a look at our careers page to see how you can begin your journey here too.