2016: The Year of Cloud
If there's one thing in this life that's certain – along with death, taxes and data breaches (pretty sure that's what Ben Franklin said) – it's that cloud computing is here to stay. But whether that cloud is an angry stormcloud of confusion hanging over your business or a fluffy white joy train taking your business to new heights is down to you. A new survey shows that, for the majority of businesses, 2016 is set to be the year of the cloud – meaning that those that don't get on board could get left behind.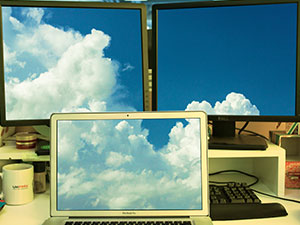 The tech gurus over at Computer Weekly did an 'IT priorities 2016' survey of 142 IT professionals and managers and found that cloud computing is expected to experience the biggest growth in spending for businesses planning IT investments in 2016. Basically, it's a bigtime priority for businesses this year.
A whopping 50% of the people it asked said they'll be increasing spending on cloud computing; and over on the other side of the seesaw 37% said they'll be decreasing their hardware investments.
If you're still feeling a little cloudsceptic, it also found a "strong correlation between moving to the cloud and cutting costs" which is what tech is all about – faster, easier, cheaper.
This is a big concern for businesses, by the sounds of it, as although 23% of those asked said they would be investing in more staff, 35% claimed they would be cutting their headcount.
Our own cloud range – eCloud – recently turned three, so if you're keen to get with the programme and move to the cloud, here are the top three benefits of using our cloud.
We're also hosting an event at UKFast Campus, Cloud UK Live, on 6th July so you can hear from top industry experts from Microsoft, Cisco and Wired UK – as well as our own Director of Enterprise Technology, Chris!