Nice To Tweet You
Mel, our lovely new social media exec, shares her first impressions of UKFast!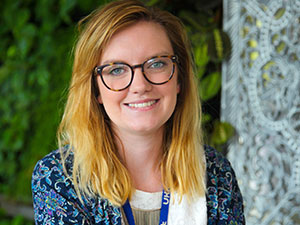 Before I came to UKFast I knew it was a vibrant, exciting brand, but not being a "techy" I wasn't quite sure what we did. The brand itself is everywhere – whether it's on black cabs across the city, seen from Princess Parkway or welcoming you home at Manchester Airport, it's there – so even though I wasn't techy I was excited to get stuck in and learn more about what made UKFast tick.
My previous role was at a charity called Forever Manchester, which I grew to love very dearly, so the thought of moving jobs was a little daunting to say the least. Going from a team of 15 people, all of whom I got on with extremely well and became great friends with, to a team ten times as big was probably the scariest bit for me. I had visions of lunch in the loo, Cady Harris from Mean Girls style, and thought solid cliques that I might struggle to make friends in would be in place.
Joining UKFast was the complete opposite to this. The thorough recruitment process is in place for a reason and they've employed people like me; people who want to have a laugh at work but are also extremely ambitious and – sorry for the cliché – but "work hard and play hard".
The induction process is thorough too. Before I even met my team or saw my desk I spent three days in the UKFast University learning about the history of the company, what we do and Lawrence and Gail's success story. All of this is what makes UKFast what it is and it was comforting to do it alongside 8 other people who were in the same nervous state as I was on Monday morning!
I've been here for three weeks and can already tell this is where I want to be. The vibrancy of the office, the culture, the people, the options available for me to develop personally and gain further qualifications… and, let's be honest, the free bar on a Friday afternoon all set in stone that I'd made a good move!
Since starting, I think the biggest shock to me is how much time I've been able to spend with Lawrence. As the CEO of a company as large as this, I didn't think he'd be as hands-on with new team members as he is.
Lawrence really cares about the people that work at UKFast and wants them to be happy. He's also encouraged me to get stuck in with things straight away rather than shadowing team members and that's been great. I've enjoyed being able to the share the ideas I've got for UKFast and I'm really excited about what's to come.
I was invited to have lunch with Lawrence and his family and a couple of people from the Comms Team in his office in my first week and it was really great to get to know them a little bit better.
Family is really important to me and it seems to be the case for everyone that works here, and I think that's why everyone cares. It's so cheesy but you really do feel like you're joining a huge family, and I'm sure I'll soon find out it's as weird and wonderful as family life usually is in the coming months.
If this sounds exactly like the mad family for you, visit our careers page.