The Space Age
We're pretty philosophical here at UKFast. At the moment, one of the hot topics around the office is the nature of the office itself. In today's blog Hester goes on a behind-the-scenes tour of UKFast Campus and explains why we love it so much.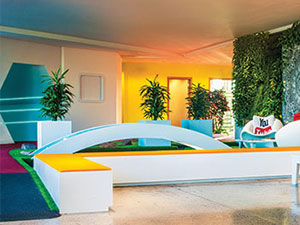 We're really proud of UKFast Campus, the place we call home. Our triple-storey behemoth boasts a gym, five kitchens, a Scandi lounge, ping pong and pool, a Zen garden, an auditorium and a fully stocked bar – all of which have been made possible by our in-house construction team. But for a company that's about to celebrate its seventeenth birthday, having a place that's really ours is a very new development.
In 2013, we bought a derelict building in Hulme and transformed it into a hive of productivity. That's right, it's only been three years since we upped sticks from a rented unit in City Tower and firmly planted our feet on this soil. It got to the point where we were ready for total ownership of our surroundings, something that a rented property never allowed.
It was important for UKFast to wait until the time was right to buy. We were better placed than ever to make a big investment, and the skeleton space we took on was just the project we'd hoped for.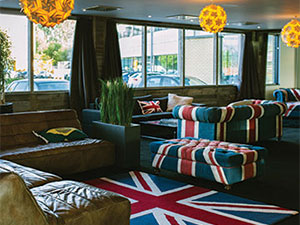 And it seems that we're ahead of the curve. More and more companies are taking up temporary residence in rented offices, appearing to hold out for that perfect property before buying. That's a decision we can vouch for.
Now that we've decked the Campus out to our heart's desire, boy, are we glad that we made that leap. Alongside customer support it's always been a top UKFast priority to create an amazing work environment, and we were fortunate that our City Tower rental was a fantastic space in an ideal location. But we've been an even happier, even more productive bunch since we got our hands on those deeds. Happy team = happy client. Taking ownership of the space is a massive part of it; we do our work in our office, and we work better for our customers as a result.
The long game
The steady increase in hired office space suggests that more and more companies are waiting some time before they commit to owning property.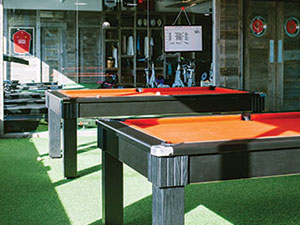 The increase in rentals is also down to the sheer number of new businesses cropping up across the country. Yes, there are simply more companies than ever before. But in addition, this explosion means that competition is fiercer than ever. This fight for establishment and success in turn means working harder to get every element of a business spot on. There's no point buying a building before you know you're built to last.
Or is there? It certainly makes sense to follow that line of logic.
The tech start-up exception
But then we cast a sideward glance to our very own industry and see this property caution flip-reversed. This week, our inboxes have been full of links to slides showcasing showstopping tech start-up offices. Whether cooing over roof terraces or ogling in-house libraries, we've seen a considerable number of fledgling businesses buying and completely kitting out their offices. Seriously. We're talking no expense spared.
How do these baby businesses have the confidence and – more importantly – the money to create such elaborate working environments? We see two reasons.
One: tech start-ups are seeing more financial investment than probably all other business put together. Tech is the future, and so are the children (thanks for the heads up, Whitney). So, assuming they have a host of investors and partners fighting and funding their corner, we can see how they have their own (crazy cool) offices.
And two: this new generation of companies is the first of its kind to appreciate the working environment en masse. The culture created by this ever-expanding start-up world is one of creativity and innovation. Part of this attitude seems to be a collective imperative for stimulating and motivating staff into brilliance. Fostering a creative community is so central to the ethos of these start-ups that it has become a primary step in their business plan.
If you want to see the UKFast Campus in the flesh, take a look at our events page where you can come along and meet with like-minded people and hear the hot tech topics of the day!