Enter the DEAs Today
There are few times in life when you have the opportunity to dress up real nice and have someone tell you how great you are. I think the last time this happened to me I was seven and had just won an Easter Egg design competition. Well, proving that adults can also have this level of joy in their lives, the Digital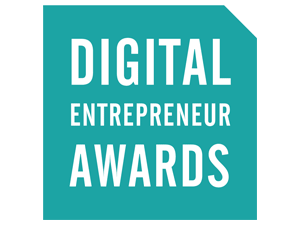 Entrepreneur Awards – a night of glitz, entrepreneurialism and digitalness –  are now open for entries; if you've been waiting for the chance to feel the same giddying highs that I felt all those years ago then this, comrades, is your chance.
You're probably thinking a) this girl needs to get a life and b) that the DEAs aren't that special and you'd probably get the same level of life-joy by staying in your pyjamas and eating takeaway straight out of the box of an evening.
While nine times out of 10 I'd agree with both those statements, the DEAs have the pretty significant honour of being the UK's longest standing awards dedicated to internet entrepreneurialism. They celebrate the best of a rapidly growing industry and have been recognising Britain's finest online talent for over a decade, which is something to get out of your pyjamas for, I think.
Entries are open now, and if you're thinking well yes, I'd love to enter but I'm busy, out there on the coalface being a digital entrepreneur, then it's also incredibly easy to enter – one online application, three easy questions, maximum satisfaction.
The deadline for entries is the 11th July, and the big night itself is Wednesday 9th November at the gorgeous Palace Hotel, right here in our equally gorgeous (yeah I said it) city, Manchester.
Our expert judges will reward the greatest minds in the UK's online industry, seeking out the hidden masters of the net, as well as high-profile web leaders. The DEAs have been a springboard to success for many of the web's pioneers; are you one of them?
Even if you're not thinking of entering, book a table and join us on the night. Dust off your dinner jacket, delve into your wardrobe for that dress you've never had a chance to wear, and come and meet over 400 like-minded digital devotees. You'll be up to speed with the top movers and shakers of the industry, make some new connections and, as headline sponsor, you'll probably get to say hi to some UKFasters too.
We're announcing new judges in a couple of weeks so keep your beady eyes peeled to find out which industry titans will be doing the honours.