British Cloud
With over 78% of UK organisations formally adopting at least one cloud-based service over the past few years, UK cloud adoption is well and truly on the rise. As cloud computing becomes increasingly dominant in our increasingly digital world, why is it more important than ever to host and store your data in a British cloud? Cloud experts shared their thoughts from our most recent UKFast round table – Lowri has the lowdown!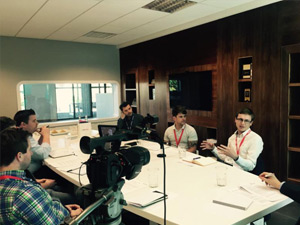 Phil Donoghue, managing director at Cloud4Computers, believes Brits have a unique ownership mentality that most countries do not possess.
He said: "Offering a British product is so important to us and it truly means something to businesses.
"We've always used a UK-based data centre; it's one of the first thing people ask us about actually. Brand Britain still exists and it's still very strong. The British brand is important for many reasons, including regulatory reasons, and we are truly seen as a great country do business with."
Tomislav Simnett, director at web agency Initforthe, agrees. He believes Britain is a thought-leader in the market, and a place to be proud to host your data.
He said: "Britain is seen as being extremely innovative and a country that's really fronting progression. We do things the right way and that's why people want to host their data here. People trust Britain with their data, and rightly so."
The experts also believe however that the general perception of hackers must change.
Tomislav added: "Hacking essentially involves tinkering with stuff; it's not actually a bad thing. Hackers uncover vulnerabilities and they thrive off pushing boundaries to see what they're capable of. They are highly skilled individuals and can uncover a great deal of information."
Nathan agreed. He believes the UK government must see the skill in the hacker's abilities, rather than the threat.
He said: "The government sees hackers as threats rather than assets. They should, however, recognise the advantages in using hackers to offer their services and educate the government in their skillset."
Want to know more? Hear the experts' views on the key considerations when stepping into the cloud.
If you're interested in debating the hot topics of the day at our round tables, take a look at our web page, and sign up to our YouTube channel to get the latest videos and insights from our film team!