Demystifying Tech for Business
In glorious, glossy, inky proof that print is not dead, the first edition of BusinessCloud – a magazine aimed at demystifying tech for business – is now hot off the press! The new dream team of our CEO Lawrence and infamous editor Chris Maguire have launched a tech magazine for business, and here's why it's going to be your bedtime reading.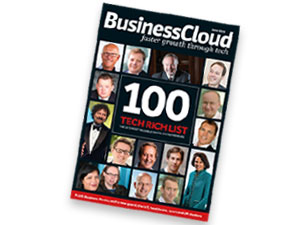 When you think of tech mags, what do you imagine? The cool, consumer-focussed Wired? The more jargony tech trade magazines? All great in their own right, but – with tech driving change in business on a daily basis – where would you go if you wanted to find out, say, whether these new, kinda alien-sounding technologies will give you good ROI, or why Manchester could be the next Silicon Valley? Maybe you want to hear from the founder of an organisation that teaches businesses to code in a day, or know why the Panama Papers hack has more to do with you than you think?
BusinessCloud is bridging the gap between tech and businesses and showing those that are truly ready to embrace tech and innovate how to be at the front of the pack.
The mag's stacking up at 80 pages of tech knowledge, but not as you've heard it before. There's no jargon, no unexplained tech terms, no confusion on how you can use it in smart ways. We talk to some businesses that you'll have heard of, some businesses that are up and coming, and specialists on the hot tech of the day. There'll be some fun bits too, and thoughts and opinions from some of the tech titans around the country.
Chris – who's taking the helm as Editor – shared his thoughts on why the mag is so unique, and so relevant: "What's been really refreshing is the number of partners who want to work with us commercially. People talk about the Internet of Things and Big Data but not many 'real' businesses can explain what they are and how it can improve the bottom line. That's where BusinessCloud comes in."
"BusinessCloud is about producing great content in a language that a business audience can understand. We want to make it fun and informative. The cover story is our Top 100 Tech Rich List and the research has been compiled by Philip Beresford, who also produces the annual Sunday Times Rich List. However we've also profiled five young tech tycoons who are aspiring to be the next Mark Zuckerberg.
"We're looking at all sectors that technology impacts on, including healthcare, education, Fintech, crowdfunding; sport etc. The list is endless. As well as the print product we're videoing some of our roundtables and events and producing podcasts."
Based out of UKFast Campus here in Manchester, the initial run is just under 20,000 copies with 12,500 being distributed with the MEN across Greater Manchester. The rest will be winging their way around the country to UK businesses and UKFast clients. You can catch up with all the stories and more on the website; Lawrence and Chris have big plans so watch this space!
Take a look at the BusinessCloud website and keep your eyes peeled for the print version too.