Heroics – More Than Just Lycra
If Marvel has taught us nothing else, it's that being a hero can be a thankless job. However, last Friday we were honoured to take home Business Pledge Hero of the Year Award at the Oldham College Vocational Qualification Awards evening; proving that Marvel is wrong about more than just their wardrobe's Lycra quota. While I restrain myself from singing the lyrics to the hit noughties tune "Hero", you might want to hear about why this is an award so close to our heart.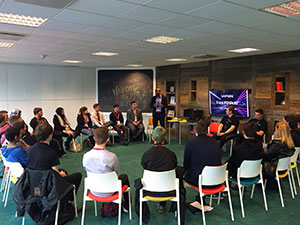 The VQ Awards are aimed at celebrating the achievements of the Oldham College students, and with good reason – they're a pretty award-worthy bunch.
Seeing as we're clearly too old and far along in our caffeine addictions to be winning awards aimed at college students, this might make it sound a bit suspect but, fear not; this one celebrates the amazing employee engagement across Manchester and how we in the business community collaborate with educational institutions to create a pipeline through which to nurture talent.
Oldham College puts a huge focus on this collaborative education, ensuring that students are ready for the world of work, and our training and education team (who definitely need no persuading to wear Lycra) have worked tirelessly with them to achieve these goals.
Sponsored by E.ON and up against the likes of NatWest, the award recognises the employer who has been actively involved in developing, contributing to and running elements of the course curriculum at the college in an effort to prepare students for the workforce.
Through our work on the employee advisory board, and as gold educational partners, we love having this collaborative partnership with the college. The award also cited our two-year support for the school's hardware and network team as one of the reason's that we made the cut, teamed with our focus on building a curriculum and inspiring the next generation of digital entrepreneurs through things like data centre tours, masterclasses at UKFast Campus and award events.
We also often have students over to the UKFast Campus (lay your peepers on the video below to see their shiny, happy faces), run career days, offer work experience placements, and have employed four of the college's leavers. The work of a hero is never done!
Aside from the fact that educating the next generation of tech talent and tackling the skills gap is something we feel passionate about, there are also benefits to our clients from this partnership. We're ensuring that the next generation of UKFast superstars will be skilled-up, and ready for the challenges that the fast-paced, evolving digital world throws at them. Through the college we also have access to free Cisco Academy training ensuring that we're staying on our toes too.
You can find out more about our dedication to training and education – and apprenticeship opportunities – on our website.