UKFast First Impressions
The second of our lovely new Comms girls Hester shares the lessons she's learnt so far at UKFast!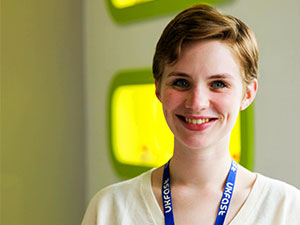 Before coming to UKFast, I was working at a stereotypical London agency, and it's taken a good while to get my head around the contrast.  Coming from an office that very much advocated the 'work hard, play hard' ethos, it's a welcome change to see UKFast balance work and fun in an attainable way. Everyone here is busy and driven, but they're also healthy and really, really happy.
Here's what I've learnt so far about working at UKFast:
It takes less caffeine
The day I got the call from UKFast to interview, I remember feeling so jittery from the double Americano I'd necked that I hardly knew what I was saying. I relied on that caffeine-induced haze to get me through the long, long days. Today I've had one coffee and, at 4pm, I'm still kicking.
A desk is not a dining table
Working through lunch was almost a given in my last office. At UKFast, it's ingrained in the culture to take breaks. I've not seen anyone eating at their desk yet; most people spend their lunch breaks at the gym, running, playing games or just plain socialising.
Time is trust
The pace at UKFast is, well, fast. There's a lot to do, but it's not unmanageable and people get it done in time for dinner. I spent last week enjoying my evenings at home; something I rarely did in London.  Collaboration is encouraged, whether it's in a meeting or during a chat by the fruit basket; it leads to new ideas, which is what it's all about here.
I am not a number
Probably the biggest shock to my system at UKFast has been the welcome. The first three days here consisted entirely of induction; I had an office tour, a visit to the one of the Data Centres, and extensive training in the company's history and its services. I've learnt a lot about UKFast and, during this period, it seems that UKFast has learnt a lot about me.
The number of people who know my name and have said hi to me – including the CEO and the MD – is impressive to the point of being slightly alarming. Honestly, it seems like it's in everyone's job description to take the time to think about other people. I didn't see it in mine, but I've added it to the list.
For more information on a life that won't see you wired, tired and recovering from a nervous breakdown at 30, visit our careers page.