A Workplace Like No Other
When we recruit at UKFast we say that shared values and a willingness to get stuck in, learn and try new things are more important than anything else. Natalie, one of UKFast's top team members, is a fantastic example of the opportunities available here to those who grab them with both hands. We talk to her about her journey over the last five years at UKFast.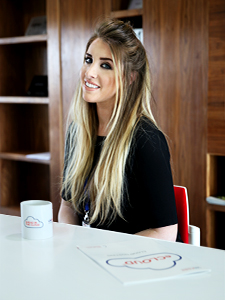 Like a lot of people at UKFast, my journey started in a unique way. I was initially hired as a physical therapist because of the company's dedication to sport and fitness. I got to know the owners, Lawrence and Gail, and their warm and welcoming approach to the people around them made me feel at home. Everyone was so lovely and I was amazed by the City Tower office space. The views up there were incredible.
As I got to know them both better and my role evolved I spent time helping them both with anything they needed whilst they worked hard on building the business. Every team member of UKFast is the same, they want to help and they're willing to pitch in wherever they can.
When Lawrence began the opening of his new hotel, Le Farinet, in Verbier, I moved away with the team that was opening it. I helped out wherever I could – in the bar, the lounge, the reception, cooking, and taxiing people to and from the airport.
Three years later, my role now is an internal recruiter; I'm based at the new UKFast campus and couldn't be happier. There is no other company in the world like this. One of my proudest moments was my first placement as a recruiter. Organising the start of someone's journey here is so rewarding.
I've been through a range of different roles at UKFast and I have settled into one that fits me perfectly. After seeing the business from so many different angles, I know the culture inside out and that helps me to find people who are a great fit for this experience.
One of the most memorable moments in my career so far is visiting Necker Island and lunching with Richard Branson.  It's these types of experiences which you just can't find anywhere else.
My role has changed so much and so many times over the past five years. Lawrence and Gail saw potential in me and that has meant having more opportunities than I could have ever imagined. I've made some lifelong friends and I think it's safe to say that this is truly an amazing place to work.
If this sounds like the place for you then you could be the next UKFast Superstar – take a look at our careers page, we'd love to meet you!