Fast Asleep
As many of you in the industry will know, looking after your solution can be a 24-hour job; the best time to carry out any maintenance work is most likely overnight but unfortunately, just like babies, rowdy neighbours and the bar that backs onto my bedroom window, it's likely to stop you sleeping. At UKFast we're always looking for ways to make things easier for our clients, so we're pretty excited to announce that plans for our new UKFast data centre support and security hub are in motion!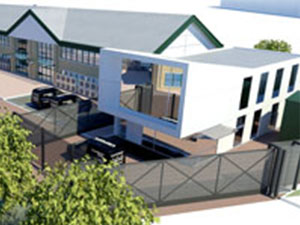 Yep, you've housed your data in our custom-built, wholly owned data centres and in future you'll be able to look after it from the comfort of our DC Support Hub, which includes snazzy, custom-built data centre accommodation. It's going to be state-of-the-art and a first of its kind in the industry, and will let our clients' tech staff rest in peace (in a non-sinister way) while they watch over their solutions, while also adding an extra layer of security for the DCs.
The plans have been drawn up by the award-winning team at Project 3 Architects, who have designed the facility as a direct response to the brief we provided. The designs outline a building with large expanses of glazing, over clad in a unique steel mesh to filter sunlight and provide a secure skin (which I believe is all design-speak for 'fancy').
There's also going to be a state of the art office facility at the front of the building with a large glazed window overlooking the current UKFast site. We'll have to do a Cribs-style show around when it's done but I can tell you there are going to be plush bedrooms, relaxation areas, a working office space and Sky TV – pretty swish.
Our very own in-house team, UKFast Space, with a full-service battalion of professional builders, joiners, plasterers, plumbers and electricians, are going to carry out the development. We can't wait to show you the finished article and maybe even have you to stay!
You can take a virtual tour of our data centres on our website and clients can come and see one IRL!