The Hot Tech of SpiceWorld
We were pretty excited to be attending – and speaking at – the infamous SpiceWorld IT conference last week! Linux engineer and Director of Swag Kirsty tells us exactly how excited that was (spoiler alert: it was pretty excited).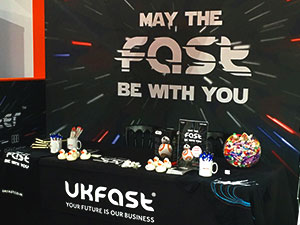 When I was initially invited to SpiceWorld I jumped at the chance, having been a big Spice Girls fan for many years and relishing the opportunity to meet Scary, Baby, Posh, Ginger and Sporty. Little did I know that this was, in fact, a conference for like-minded technical wizards to network, attend talks and amass as much swag as possible.
When we arrived the stall was already set up in the theme of 'May the Fast be with you'. We all sported shirts with x-fighters on, reminiscent of a popular, space-themed movie. We even had our own George directing this adventure. Lightsabres were available from another stand which completed our Jedi-look.
I quickly nominated myself to be the t-shirt pile manager, which appeared to be the hottest item of swag in the room. Free trials of our eCloud Flex solution were also being snapped up!
For our first talk another Linux engineer and I ventured into Microsoft's DeepFat Fryer talk. We may have been rumbled as the only people in the room that admitted to not having used Windows 10. It was good to see how the other half live however, and we may almost admit to being impressed that the demonstrations came off without a hitch, albeit mildly disappointed.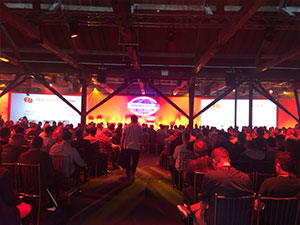 Back on the stand the competition for the BB8 was hotting up. We decided to venture around the room to see what other prizes were on offer. A reaction time board from HP Enterprise was our main target. Unfortunately our team's reaction time wasn't quite on par with our server speed and support team call pick up times, but we'll certainly be looking to think faster® next year.
But fun aside, now we were down to the serious business. The hour was upon us, and that hour was power hour. Our very own Dr C Folkerd was due to make his speech on scaling and optimising cloud. The crowd was electric. The organisers had no idea what a sleeper hit this was going to be. The doctor was in session.
What followed was 45 minutes of insider knowledge on what it really takes to design, build, run and maintain a cloud the size of eCloud. The tone of the talk was very technical yet still approachable for any member of the audience. Years of experience in the field meant that the talk eschewed thinly veiled sales pitches from sales directors for a down to earth heart to heart from technical person to technical person.
The ensuing QA session started slowly soon had Chris fielding questions from high level issues about single VM performance to larger scope questions regarding the changing nature of licensing in a virtual world. Overall, the talk was a massive success, and the moonwalking finalé exit (to the '75 hit "Take it to the limit" by The Eagles) really was the cherry on the cake.
Being bombarded with Cloud optimisation advice left us absolutely famished but luckily dinner was provided in the form of four different bacons matched with beer. If you're not quite sure what to have after getting to listen to a Cloud expert then let me recommend a maple cured bacon with a raspberry wheat beer.
The last talk was less computer science and much more rocket science. Helen Keen took us on a hilarious hour-long journey into space, with some of the most interesting chart-usage I've ever seen.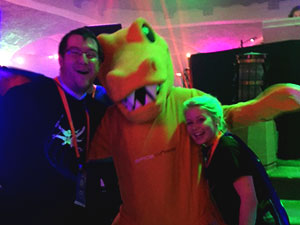 The last thing on the agenda for a very long and action packed day – a space-themed, out of this world party hosted by Cisco. Fortunately we'd acquired enough swag during the day to ensure we were appropriately dressed for the event, with caps, sunglasses and glowsticks at the ready. Special mention should go to Dr Folkerd, not just for a cracking talk but for busting some BIG moves on the dancefloor. Seriously, he would need his own private eCloud solution complete with 3Par SAN to host those moves.
Being complete professionals we retired from the party earlier to have a long sleep ready to smash day 2.
My only talk this day was on Women in IT, a much more interactive affair. This was a good chance to hear other women in the industry discuss their experiences and address the issues that we may face. One point raised was that we needed to ensure there was more visibility around women in tech for children in schools, something our Training and Education department are working hard to do.
We managed to give away the BB8 to Jamie, and the real crowning achievement of the weekend was that we were able to give away all of the pens we brought with us. There were literally thousands.
Our day ended with a free bottle of Spicy beer to take with us on the journey home. Our bags were heavy with swag and our brains heavy with knowledge on the Cloud. Overall it was a great couple of days to meet lots of technical people, attend some great talks, and – most importantly – eat lots and lots of bacon. I'll definitely be back next year.
Follow UKFast on the Spiceworks Community for updates, events and goings-on at the UKFast Campus!