There's No Escaping the GDPR…Are You Ready?
With the recent GDPR updates coming into effect this time next year it's time to up the ante on the conversations around data protection regulations. Lowri has the lowdown.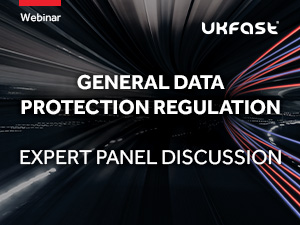 In a recent round table at UKFast industry experts gathered to discuss the changes to the regulations, why they've been updated and how they will affect businesses in the EU.
Rob Sheldon, partner at law firm Field Fishers, believes the sheer proliferation of technology has been a big driver of the regulation updates.
He explained: "Technology has a big part to play in the new data protection regulations. The amount of data we entrust to technology is huge. Social media has a big part to play too, we entrust so much in our personal lives and it's all very, very personal information. Just think about how many apps we use on a day-to-day basis for example. What information those apps are generating about us is massive; they are all generating very rich data.
"Trust also seems to be a really big issue at the moment and a big driver for the new regulation. Going forward, it's all about being data stewardship. Everyone must take it upon themselves to put good procedures in place in order to protect people's data. As organisations, we are custodians of people's data and unfortunately at the moment there is a general distrust – people generally don't trust organisations with their data.
"If that trust is then breached it causes damage and distress. People are more concerned than ever before."
Tristan Meears-White, lawyer at Pannone Corporate, believes the new regulations will further protect consumers of technology.
He said: "One of the biggest problems is that we don't hear about many of the breaches, we actually only hear about a few big ones. The opportunity with these regulations is that it's creating an environment to protect the always-on society who are not necessarily going to read the terms and conditions. It's creating an opportunity to differentiate yourselves through trust."
Nicola Frost, in-house lawyer at UKFast believes not enough businesses are stepping up to the mark when it comes to the new regulations.
She said: "There are certainly different levels of sophistication surrounding the new regulations – there are many legal debates where people are doing data mapping exercises and looking at insurance in light of the GDPR, and then there are some who are doing nothing at all. It's going from one extreme to the other, but ultimately organisations need to prepare right now."
Whilst the new regulations pose as a big priority to many companies, others do not even have it on their company roadmap. It's becoming increasingly more important for organisations to implement the appropriate measures in order to comply with the new regulations. Now is the time to take action.
Can't wait until then? Listen to our experts here:
Want to find out more? Sign up to our GDPR data privacy webinar on Thursday 2nd June.