Bat Signals and Baking
Acts of heroism come in all shapes and sizes: saving Gotham from a man who has very questionable face painting abilities; taking on that task at work that no one else wants; making a difference to the children who need it most. Last Friday was the Key 103 Cash for Kids Superhero Day 2016 in aid of Wish Upon a Star and we were incredibly proud to partner with them once again. The superheroes were out in full force and the results have already been incredible!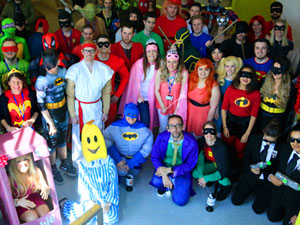 While it might be an unlucky day for some, this Friday 13th we felt pretty lucky to be part of an incredible community that comes together in support of a good cause. The day was the culmination of the Key 103 'Be a Superhero' campaign in aid of the 'When You Wish Upon a Star' foundation and we got dressed up, baked cakes and raised money for a cause that couldn't fail to move you.
Never ones to shy away from the chance to get stuck in, we also hosted the launch night here at UKFast Campus back on Thursday 21st April. A heroic £51,000 was raised on the night alone, showing that it really is possible to make a difference.
It's pretty moving stuff and our CEO Lawrence was moved too, as you'll see at the close of his speech at the end of the video below. Take a look to find out why we support this incredible cause:
The running total for the campaign so far is at £107,150 but you can still donate – check out the Key 103 page for details.
To find out about more events at UKFast, take a look at our website or give us a call on 0161 215 3857.