UKFast vs Digital Skills Gap
Manchester's digital technology industry is growing at an incredible pace, and is a main driver behind the Northern Powerhouse. The city is now home to the second largest tech hub in the country in terms of number of jobs, with a total of more than 50,000 jobs in the digital sector. Lindy has the lowdown.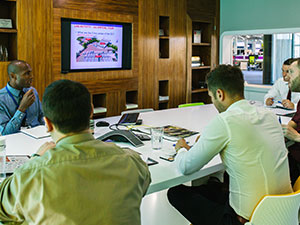 Although this is great news for the city, it's important to focus on both growing and sustaining the industry in the future and working towards avoiding possible blocks for growth, such as a potential digital skills gap. One way of doing so is by improving links between schools and businesses.
This month the chairman of Capgemini UK expressed her concerns about digital education in the UK, explaining that "technology changes so frequently schools often find it difficult to keep up". Yet, equipping young people with technology skills has never been more important; the challenge is that a large percentage of future jobs don't actually exist yet.
UKFast's ethos is that business should be more involved in informing education on the types of skills they look for when hiring. We are working with The Dean Trust on their IT curriculum and are devising a cloud computing and eCommerce MSc with Manchester Metropolitan University. Similarly, schools have a responsibility to prepare their students for employment. Young people need to leave education with a better awareness of the options available to them.
As a tech employer, we now work with 45 schools in the Greater Manchester area, amounting to over 35,000 pupils in total. The UKFast team delivers masterclasses and teacher development, code clubs and immersion days. We take groups of students to our data centres so they can learn what the internet really looks like! Through a mix of training and specialist hosting, we help educational institutions to find more efficient, cost-effective and flexible ways to share, learn and collaborate. We aim to inspire young people and equip them with the technology and skills needed to future-proof the UK's digital economy.
One great example is Manchester High School for Girls, who we've worked with for some time, engaging the young women there and showing them the world of opportunity that tech can open up. Currently, only 16% of the 1.1 million IT specialists in the UK are women. There's an entire talent pool out there that, given the current skills shortages in STEM-related professions, we just can't do without.
We also have an on-going technical partnership with The Dean Trust and their eight local schools, which have 4,000 kids alone. Last summer we provided expertise and investment to help the trust launch a Raspberry Pi Café, bringing tech and computer science education to Broadoak School in Partington, Greater Manchester. The centre aims to educate and inspire a new generation of tech engineers and digital innovators.
A few years ago, we identified the need to develop people fast enough to keep up with industry changes and our own fast pace of growth, so we decided to set up a state-of-the-art training centre with full-time teachers from the public sector. Having these facilities has enabled us to develop our award-winning apprenticeship programme, which prepares young people to take on a constantly evolving marketplace. The programme has a 100% employment rate, allowing us to grow, develop and nurture future superstars. About 15% of our workforce is now made up of former apprentices.
We are recruiting, so if UKFast sounds like the right fit for you, or you know a potential digital superstar, why not have a look at our current vacancies?