IoDWDF – Impact, Influence and Chaka Khan
As part of our Women Directors Forum last Friday we welcomed a panel of inspirational speakers to the stage to share their journey and further encourage and motivate a room full of powerful women. Lowri shares thoughts on impact and influence from two more of our incredible speakers.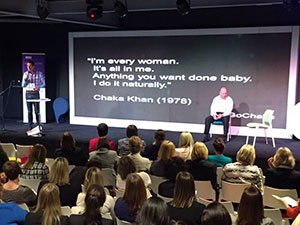 First to take to the stage in the afternoon was the wonderful Ndidi Okezi – executive director of Teach First – a charity organisation aiming to address educational disadvantage in England and Wales.
Ndidi explained the mission of Teach First and why it's such a fantastic organisation to get involved with: "Our mission at Teach First is to work to end inequality in education by building a community of exceptional leaders who create change within classrooms, schools and across society."
Bringing with her some astonishing statistics, Ndidi stated that 3.7 million children live in poverty in the UK today with research proving they will attain lower GCSEs, and ultimately earn less. Teach First believes it can change this.
One great teacher can change a child's life and with training and support Teach First allows people to become brilliant teachers, inspiring the young people who need them the most.
As part of Teach First's mission Ndidi believes encouraging teachers to become leaders will help improve the quality and success of education for disadvantaged children and this is where their teaching programme comes into its own.
Taking budding teachers on a two-year journey of training, mentoring and internship opportunities Teach First aims to create leaders out of teachers; combining the development of teaching with personal and business skills training, internship opportunities and mentoring.
Next up on stage was the wonderfully inspiring and charming, Phil Jones, CEO of Brother.
Phil opened his talk with the lyrics from none other than Chaka Khan: "I'm every woman, it's all in me. Anything you want done baby, I'll do it naturally" – a very well-suited song for the occasion.
Addressing the conversation around women in business Phil said: "There's a conference full of bright people here – take away the fact it's all women – it's all talent. I'm the minority here; if more men put themselves in a minority they'd understand the divide."
Phil elaborated on the gender divide issue: "This should not be happening in this day and age and businesses that are male dominated are actually dangerous organisations."
He added: "Guys, if you think more like a woman you're more likely to run a successful business."
Speaking alongside Phil in a 'He for She' panel discussion, Tom Higgins, CEO of construction company Laing O'Rourke agreed. He said the most inspirational and powerful person he knew was a woman in the predominantly male industry of construction who changed the way his company was run.
The ever-inspiring and wonderfully brilliant Harriet Minter rounded off with a powerfully motivating speech.
As editor of the Women in Leadership column for The Guardian, Harriet gave the room an insight to her story and how she became so influential.
It was clear to see Harriet's drive and determination stemmed from a very young age; after a bailiff marched her family out of her house as a young girl Harriet was determined to be "big and powerful enough to live the life she wanted without anyone taking it away".
Motivating the women of the room to use the tools in their metaphorical backpacks to go through life with ambition and success, Harriet explained just how important it is to be confident in your own abilities.
"Think about your skills and how you can influence the world around you. It's the biggest impact anyone can make."
Harriet ended with a story about resilience that she had learnt and used throughout her career. It's one that's very simple, yet powerful enough to be remembered.

The Hero/Heroine Journey.
Welcome the Hero/Heroine (that's you)
The hero has a quest to go on. They have to achieve something; they're excited and ready and raring to go.
Pothole. The hero is stuck and can't get out. However, the hero has a backpack full of tools to help get them out. These tools are your skills; you have to use these tools to get you to the next stage.
Once using the tools in the backpack a mystery person turns things around for the hero and helps them out of that pothole…
Taking them straight to stage 5: Completion.
In a nutshell, Harriet was passionate about inspiring the audience to use our talents to get where we want to in life, and to recognise our skills and to remember to use them.
For more information on the IoD, visit their website here.