IODWDF – Impact and Influence
The sixth annual Institute of Directors NW Women Directors Forum (IoDWDF) took place at the UKFast Campus last Friday. Themed around 'Impact & Influence', this year's forum once again celebrated the best in female business leadership and talent in the region and showcased a fantastic line up of inspirational speakers, including Professor Danielle George and MIF's Christine Cort. The newest member of Comms, Lindy, shares their insights.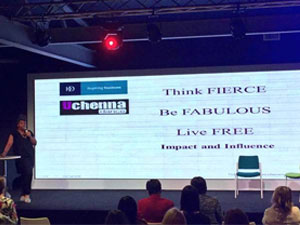 Professor Danielle George is the Associate Dean for Teaching and Learning in the Faculty of Engineering and Physical Sciences, and a Professor in the Microwave and Communications Systems research group at the University of Manchester.
Talking about her professional impact, she described feeling honoured to present the Royal Institution Christmas lectures – being only the sixth woman in its history to be asked to do so – two years ago, doing the talk while nearly nine months pregnant.
She described how she struggles to understand why so few women are attracted to science: "Our job is to inspire the next generation of technologists, scientists and engineers. I love my job. I love what I do and I can see such a future demand for skills in the industry I work in. So why do we have to work so hard to convince people, particularly girls, to join STEM industries?"
And if anyone shows how great the impact of women in STEM can be, it's Danielle. Her research has been in the world of science and its influence on the next generation of scientists. In her talk she focussed on her work on the Square Kilometre Array (SKA) – the largest space data project in the world which, incredibly, is expected to generate ten times the entire amount of global internet data and pick up signals from planets ten light years away.
Delighted about Manchester being this years' European City of Science, Danielle also talked about her plans to create a citizen engineering project called the Robot Orchestra, bringing together a wide range of people, such as scientists and musicians – working together and influencing each other. Organising the project through crowd-sourcing, and performing twice later in the year, she said: "This project will show how ingenious the entire city is, as well as the inner technologist in us all."
This idea of bringing together the scientific and creative is seen in the work of Christine Cort, Managing Director of Manchester International Festival. Christine opened her talk with a range of childhood pictures, talking about growing up in Blackburn, with her hard-working family (her dad had two jobs, her mum had three).
She said: "From the age of six I was bossing people around", yet she had "no clue" she was ambitious when she started working for Tony Elliott, who owns the Time Out brand, becoming the youngest female director on the board.
Christine said that, like the Time Out brand, she was interested in "how cities tick, what makes them work and what doesn't make them work".
When Manchester hosted the 2002 Commonwealth Games, over 18 million people visited the city. Although she had planned a full year off work with maternity leave, she received a phone call from Alex Poots (founding CEO and artistic director of MIF) asking her to get involved with organising the first Manchester International Festival only three weeks later. It was his creative vision that drew her in and made her move back up north, to Manchester.
On organising the festival, Christine said not all of it was easy. She had to have no less than 86 meetings with the BBC to get them to become a media partner, for example. The festival was expensive and risky and, she said, it "would have never happened without Sir Howard's (Howard Bernstein, Chief Executive of Manchester City Council) undying support".
Finding the right artists to get involved wasn't as simple as it may seem either. Christine explained how she would normally ask artists what they have always wanted to do but have never been able to.
She said: "I spend my whole life persuading people to do what they don't want to do. And then they are pleased."
In the end, it all worked out – the festival has been a success for eight years now, with regional impact of the last festival coming in at nearly £40m economic return for the city; 65% of ticket buyers were from the Greater Manchester region, the rest were visitors.
She said: "The challenge continues to be for people to see the performances. My job is about reach. How can I expand reach?"
This idea of reach is echoed in the festival's ethos: "Made in Manchester, shared with the world."
For more information on the IoD, visit their website here.